Gentleman Jack S1 - epi.3
Page 4 of 9
c

LICK HER

e to download this at Gofile.
Depending on your browser you may have to click right -> "Save as"

epi.3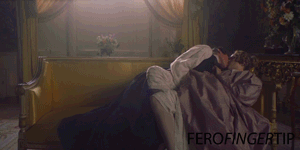 Lister confides her hopes for a future with Ann Walker to her aunt, as Ann's neighbor, Mrs. Priestley, has an inkling about the two women's relationship that presents a threat. Meanwhile, John Booth is surprised at his own romantic success. The Rawson brothers step up their attempts to out-maneuver Lister in the coal business. Marian grows annoyed that her sister is treating Shibden like a hotel. The mouthy behavior of Lister's tenant, Sam Sowden, causes problems for his son Thomas.


From the Journal of Anne Lister 4 October 1832:
I had my arm on the back of the sofa, she leaned on it, looked as if I might be affectionate and it ended in her lying on my arm all the morning and my kissing her and her returning it… I thinking to myself 'Well, this is rather more than I expected'… She asked me to dine with her at five and stay all night.
Read more Anne Lister here...
Tags: Sophie Rundle,, Suranne Jones, Anne Lister, Sally Wainwright, AnnWalker