Gentleman Jack
thanks to rmteam


"Gentleman Jack" introduces the world to a tough-as-nails businesswoman who lived openly gay in the 1800s.

Read more Anne Lister here...



...and about her love life..



.A série mostra a história e a intimidade de Anne Lister (Suranne Jones, de Doctor Foster), uma mulher considerada revolucionária para a West Yorkshire de 1832. Ela, que tinha facilidade para trabalhar com negócios e pensava sobre o casamento homoafetivo, sempre se opunha às expectativas da sociedade do século 19.

A história examina os relacionamentos de Anne em casa com sua família, empregados, inquilinos e rivais industriais. Baseada em fatos reais, a história da vida real de Anne Lister foi registrada em seus diários, e os detalhes mais íntimos de sua vida, uma vez escondidos em um código secreto, agora são decodificados e revelados.
epi.1
'I Was Just Passing.' Series Premiere. Rejected by her would-be companion Vere Hobart, Anne Lister returns to her shabby ancestral home.


From the Journal of Anne Lister 15th April 1832:
Met Captain Cameron. She asked him to dinner. The murder is out. We talked it over, she will not say 'no', so it is done… What a sudden change for us all, for me too. She will go to Italy, but not with me. Well, tho' I made my eyes very red with crying before dinner, I already begin to think it is better. She would have left me in the lurch.
Read more Anne Lister here...
epi.2
I Just Went There To Study Anatomy
Lister begins a playful but dangerous courtship of Ann Walker.


From the Journal of Anne Lister 19th July 1832:
Mr Jeremiah Rawson came at 11 ½ for 25 minutes. Asked what I would take for my coal… The price frightened him.

17th August 1832:
Called en passant on Miss Walker of Lidgate and sat with her tete a tete from 10 to 1! … In playing with it, foolishly broke a pretty ivory book knife Miss Catherine Rawson had given her, very sorry. Miss W behaved very well about it. Said my great consolation was that it would be a good excuse for my giving her one some day from Paris, which I hoped she would value as much as the one destroyed. 'Yes!' she should value it more. Thought I, 'she little dreams what is in my mind…. She has money and this might make up for rank'. We get on very well so far.
Read more Anne Lister here...
epi.3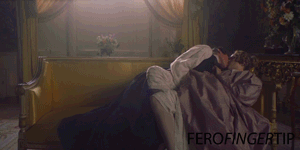 Lister confides her hopes for a future with Ann Walker to her aunt, as Ann's neighbor, Mrs. Priestley, has an inkling about the two women's relationship that presents a threat. Meanwhile, John Booth is surprised at his own romantic success. The Rawson brothers step up their attempts to out-maneuver Lister in the coal business. Marian grows annoyed that her sister is treating Shibden like a hotel. The mouthy behavior of Lister's tenant, Sam Sowden, causes problems for his son Thomas.


From the Journal of Anne Lister 4 October 1832:
I had my arm on the back of the sofa, she leaned on it, looked as if I might be affectionate and it ended in her lying on my arm all the morning and my kissing her and her returning it… I thinking to myself 'Well, this is rather more than I expected'… She asked me to dine with her at five and stay all night.
Read more Anne Lister here...
epi.4
From the Journal of Anne Lister 2nd November 1832:
We fretted ourselves to sleep last night… the tears silently trickling from my cheeks down hers… On awaking found myself as tearful as ever, just before getting up I got scissors, took up her night chemise and attempted to cut the lock but kissed her queer, gave her the scissors, said she must cut it for me herself… She hung upon me and cried and sobbed aloud at parting… 'Well', said I to myself as I walked off, 'a pretty scene we have had but surely I care not much and shall take my time of suspense very quietly'.
Read more Anne Lister here...
epi.5
From the Journal of Anne Lister 25th November 1832:
An impertinent fellow with a great stick in his hand asked if I was going home and made a catch at my queer. 'Goddam you', said I, and pushed him off. He said something which I took as meaning an attack, so said I 'if you dare I'll soon do for you' and he walked one way and I the other. I did not feel the least frightened. How involuntarily and bitterly I swear on these occasions!
Read more Anne Lister here...
epi.6
Do Ladies do that?
Lister faces a heart-breaking decision as Ann Walker's mental state takes an alarming downturn.
From the Journal of Anne Lister
11th January 1833
Her mind was distracted, and she could not say her prayers as she ought to do. Talked and reasoned calmly, then turned, and pretended to sleep. She refused all affection, and I did not press it. She scarcely I think closed her eyes until after 3, when I bade her to say the Lord's Prayer incessantly until I think she dropped off into a doze for a little while.
epi.7
Why've You Brought That?
Lister finally confronts Christopher Rawson, and executes a bold but risky coal plan before heading to Europe.
From the Journal of Anne Lister
24th December 1832
Mr R said he was never beaten but by ladies and I had beaten him. Said I gravely 'It is the intellectual part of us that makes the bargain, and that has no sex, or ought to have none.'
epi.8 Are you still talking?
Season One Finale. Difficult news from Shibden spurs Lister to leave behind her new lifestyle in Denmark.
Tags: Sophie Rundle,, Suranne Jones, Anne Lister, Sally Wainwright, AnnWalker