Pixar's Onward Has a Lesbian Character Voiced by Lena Waithe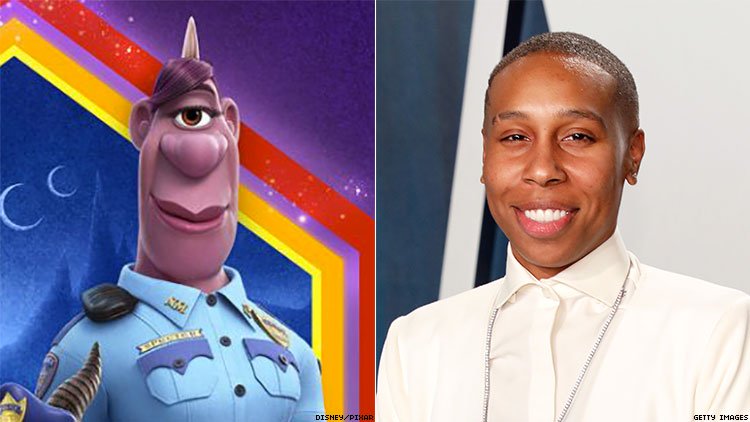 Disney has introduced its first self-identifying LGBTQ character to its slate of children's entertainment.
Onward, a new fantasy Pixar film about young elves (Tom Holland and Chris Pratt) who discover a wizard's staff, features a lesbian character: Officer Specter, a cyclops cop played by out actor Lena Waithe.
Rumors about LGBTQ characters in Onward began circulating on Reddit four months ago when a still from the trailer — of what appears to be a female couple — sparked speculation. The incident called to mind other blink-and-you'll-miss-it queer Pixar moments, including what appeared to be lesbian moms in Finding Dory and Toy Story 4.
Historically, confirmations on these issues been evasive. Andrew Stanton, co-director of Dory, incited LGBTQ eye-rolls across the globe when he skirted the opportunity to tout representation: "They can be whatever you want them to be. There's no right or wrong answer."
However, Slate confirmed that Specter is indeed queer in Onward, which devotes a line of casual dialogue to the revelation. "My girlfriend's daughter got me pulling my hair out," a sympathetic Specter tells a driver she pulled over, who was stressed by the behavior of his girlfriend's sons.
"It just kind of happened," Kori Rae, a producer of Onward, told Yahoo of Waithe's revelation. "The scene, when we wrote it, was kind of fitting and it opens up the world a little bit, and that's what we wanted."
"It's a modern fantasy world and we want to represent the modern world," added director Dan Scanlon.
In the past, Disney has come under fire for either queer erasure or introducing LGBTQ representation that barely registers. Even China, notorious for gay censorship, kept in the much-touted same-sex kiss in the latest Star Wars film. And although One Million Moms got up in arms over female background characters in Toy Story 4 dropping their child off at school, it barely registered for most audience members. The original "exclusively gay" moment from the live-action Beauty and the Beast was also hardly a blip.
While Waithe's role is small in Onward, it is reportedly integral to the story, which begins when elven brothers attempt to bring their father back from the dead with a resurrection spell — only to have it go haywire. The film also stars Julia Louis-Dreyfus, Octavia Spencer, Ali Wong, and Mel Rodriguez, and is written by Scanlon, Jason Headley, and Keith Bunin.
Rae, in a separate interview with EUR, also said the possibility of a spin-off centered on Specter is also on the table, which would be a major win for queer representation. "I want to make a whole new movie about Officer Specter, we already have the material. [Waithe] basically wrote it all and gave us a backstory," Rae said.
Onward comes out March 6. Watch the trailer below.



Advocate
Tags: Lena Waithe