Lily Tomlin's Footprints to Be Immortalized on Hollywood Blvd.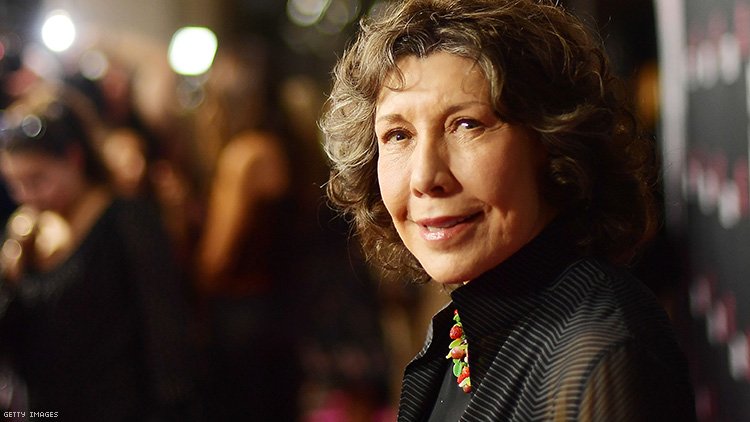 Legendary — and out — actress and comedian Lily Tomlin will be honored at this year's TCM Classic Film Festival in Los Angeles.
Tomlin will put her handprints and footprints in cement in the famous forecourt of the TCL Chinese Theatre on Hollywood Boulevard April 17, during the annual festival held by the Turner Classic Movies cable channel. The festival includes screenings at multiple theaters in Hollywood of films spanning the silent era to recent decades and a variety of events with celebrity guests.
"Lily Tomlin's talent has endured for 50 years because she knows who she is. She's managed to play broadly drawn roles alongside more nuanced characters without a hint of falseness," Ben Mankiewicz, TCM prime-time anchor and official host of the TCM Classic Film Festival, said in a press release.
"The humanity she finds in the women she plays has enabled her to transition, seemingly with ease, from groundbreaking work on Rowan & Martin's Laugh-In to four Emmy nominations for Grace and Frankie, where she costars alongside another seminal artist, Jane Fonda," he continued. "There's a consistent richness to her work, in comedy and drama, as well as onstage in her innovative one-woman show, The Search for Signs of Intelligent Life in the Universe, and on the big screen. Whether your favorite Lily Tomlin performance is The Late Show, or 9 to 5, or Nashville … wait, I'm not done. Or All of Me, Flirting With Disaster, I Heart Huckabees, or A Prairie Home Companion, you know all of those pictures were made more memorable because Lily Tomlin was among the cast. It's hard to imagine a more deserving artist to have her hand and footprints cemented outside Hollywood's signature classic movie house."
Tomlin is also an activist for LGBTQ equality, feminism, animal welfare, and many other social justice causes. She and her wife, Search for Signs author Jane Wagner, are longtime benefactors of the Los Angeles LGBT Center. Its Cultural Arts Center is named after the couple. "Lily just turned 80 in September," the organization's CEO, Lorri L. Jean, told The Advocate last year. "And so here she is decades later still going strong, out of the closet, proud, talented, working. She's a role model for all of us."
It hasn't been announced yet if Tomlin will be present at any other festival events, although the honorees in the handprint and footprint ceremonies usually do appear at a screening or two during the fest. This year's festival, the 11th, will be held April 16-19. Some passes for the festival are still available here, and tickets are sold at the door for individual screenings once passholders are accommodated.
The 2020 festival's theme is "Grand Illusions: Fantastic Worlds on Film." Among the films scheduled so far are Back to the Future (opening night gala), The Bishop's Wife, Close Encounters of the Third Kind, Harvey, Key Largo, Lost Horizon (1937 version), The Man Who Knew Too Much(1956 version), Somewhere in Time, Spartacus, and The Wizard of Oz. A full schedule of movies and other festival events will be released soon.
The handprint and footprint ceremony is free and open to the public. It will take place at a time to be announced in front of the theater at 6925 Hollywood Blvd.

Advocate
Tags: Lily Tomlin