Gwyneth Paltrow releases vagina-scented candle – and queer Twitter has thoughts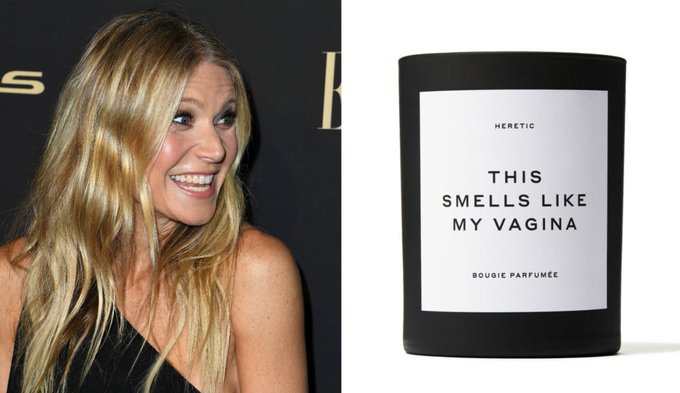 Gwyneth Paltrow, the queen of weird, extortionately overpriced and potentially harmful "wellness" products, has released a vagina-scented candle and LGBT+ Twitter has thoughts.
The This Smells Like My Vagina candle, on sale for $75 (£57) on Paltrow's controversial website Goop, was quickly snatched up and has now sold out.
Its scent is described as "funny, gorgeous, sexy, and beautifully unexpected" and is "made with geranium, citrusy bergamot, and cedar absolutes juxtaposed with Damask rose and ambrette seed to put us in mind of fantasy, seduction, and a sophisticated warmth".
The candle divided lesbians and women who have sex with women online, with some declaring it the "perfect gift for any lesbian", because "nothing smells like home like ya babe's vagina".
But, presenting the opposing argument, one person tweeted: "You know what, I love p*ssy as much as the next lesbian, but the fact that a p*ssy scented candle is not only a concept but an actual product that you can purchase and have in your home makes me want to put an ice pick in my skull."

Perhaps questioning how many vaginas or vulvas Paltrow has actually smelled as a straight woman, one person pointed out on Twitter: "Not one single vulva smells like f**king geraniums." OBGYN Jennifer Gunter also clarified that she would not normally "associate all those scents with a normal vagina".


The vagina candle was developed personally by Paltrow with perfumer Douglas Little. Paltrow described their "amazing process" of creating the scent as: "We sit on the floor and geek out on fragrance." Little described his attitude to perfume as: "I want to smell traces of the plant's origin, elements of the soil, bits of the leaves and stems."
Unfortunately, Paltrow left a large portion of the LGBT+ community feeling left out by the release of the This Smells Like My Vagina candle, namely those who did not own vulvas or were not attracted to people with vulvas.
One person wrote: "But when is Gwyneth going to release a butt candle for her gay followers?"


Luckily someone else came up with a theory that was most likely the Goop founder's plan all along. They wrote: "It's 2020 and Gwyneth Paltrow is selling vajeen candles so the closeted gay bois can convince their families not to disown them and y'all have the nerve to disrespect her.
"First she fought Thanos and now she has to fight your close-minded asses."

Paltrow and Goop have repeatedly come under fire since the website's launch for promoting "wellness" products which could be misleading or even harmful.


These have included her promotion of "vaginal steaming" which has been criticised as having the potential to disrupt the vulva's balance of bacteria and pH levels, and selling a "top-of-the-line natal protocol" for pregnant people that costs £88, and contains Vitamin A.
The NHS does not recommend that pregnant people take Vitamin A supplements, as too much can be harmful to their baby.

pinknews
Tags: Vagina