Robyn Crawford Opens up to Lena Waithe About Her Relationship With Whitney Houston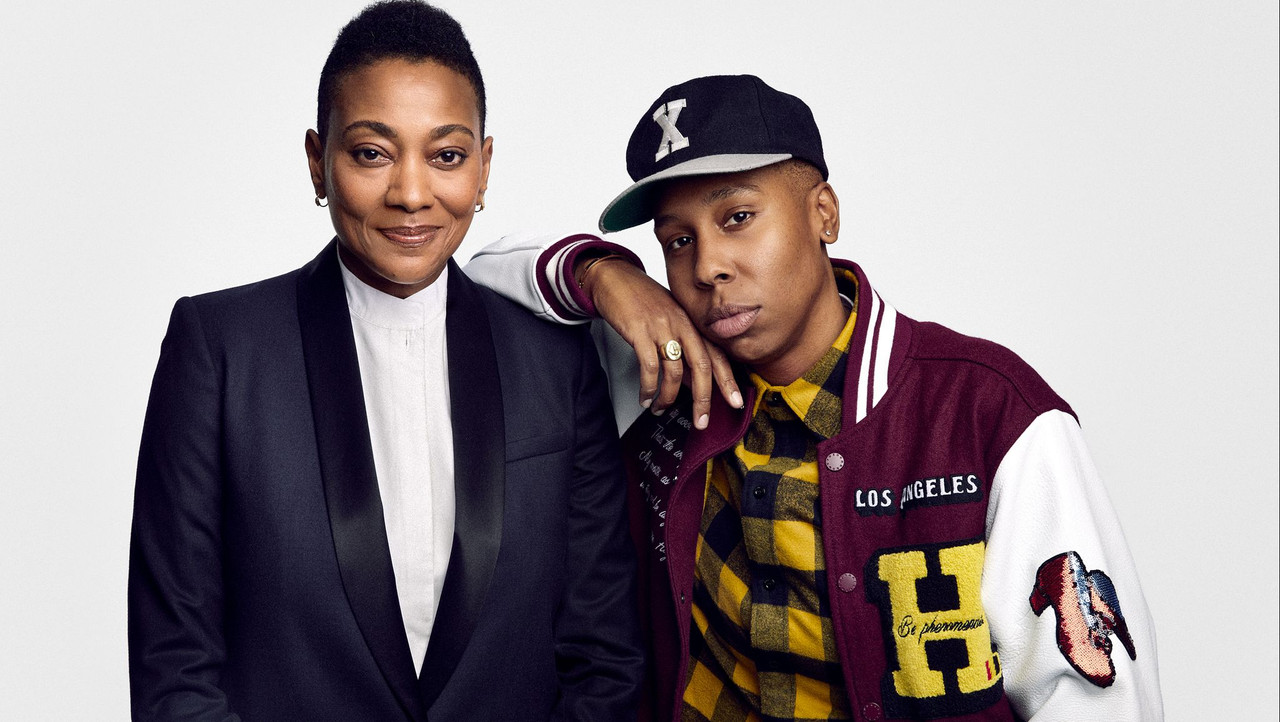 It's been nearly four decades since Robyn Crawford played college basketball, but when she arrives to the O offices in New York City one chilly fall morning, she walks with the swagger of an athlete. Her face lights up whenever her wife, Lisa, looks her way, but otherwise, she wears a serious expression. Her voice is soft, her energy calm—so calm, in fact, that it's hard to believe this is a woman on the cusp of releasing a controversial memoir about her relationship with one of history's most iconic pop stars.
Crawford grew up in East Orange, New Jersey one of three siblings, the daughter of a single mother who left her husband after years of abuse. In 1980, she was 19, home from college for the summer and working at a community center camp when she met a 17-year-old counselor named Whitney (known by her childhood nickname "Nippy" or "Nip" back then). Their friendship was fast, fueled by cocaine and an '80s soundtrack of songs by Chaka Khan and Donny Hathaway. But their bond also quickly turned intimate, an intense relationship that lasted for two years before Houston put an end to it just before signing her deal with Arista Records. Each half of the pair wrote their vow to stop being physical in the pages of a blue Bible Houston gave to Crawford. Their promise was to remain friends, no matter what, with a focus on the bigger picture: The career of Whitney Houston. And for 20 years, Crawford remained dedicated to that mission, first as Houston's assistant, and later creative director.


The release of A Song for You: My Life With Whitney Houston comes a few years after two buzzy documentaries: First, 2017's Can I Be Me, which featured never-before-seen archival footage from Houston's World Tour in 1999. And then there was 2018's Whitney, which depicted Houston's rise and later downfall at the hands of substance abuse, with interviews from her family and friends. In both films, members of Houston's camp spoke about the speculation surrounding Crawford and Houston, confirming the rumors that their friendship wasn't strictly platonic and even hinting at a rift between Crawford and Houston's husband, singer Bobby Brown, because of it.
After more than 30 years out of the public eye, Crawford—now 56, married to Lisa and living in New Jersey with 10-year-old twins—is surprisingly revealing in A Song for You: My Life With Whitney Houston. From the first time a teenaged Houston offered Crawford a joint to the day Crawford quit Houston's team after a Bobby Brown tantrum, the author writes sentimentally, but also candidly. And between the juicy moments the internet will latch onto—after all, with a front row seat to her best friend's life and career, Crawford saw everything—there is a coming of age story. A Song for You may be set to the life of Whitney Houston, but this is Crawford's tale, one of a woman who lost her family to AIDS, struggled with substance abuse while watching her best friend spiral, and grew up sexually fluid long before society came to embrace open conversations about queerness.
---
When Lena Waithe shows up to interview Crawford, she's accompanied by an assistant and her creative partner, Rishi Rajani. It's a much smaller crew—and ego—than might be expected from the screenwriter and actress who's been a media darling since she became the first Black woman to win an Emmy Award for Outstanding Writing for a Comedy Series for her episode of Master of None in 2017. Since, Waithe has created the acclaimed Showtime series The Chi, and this month she'll release Queen & Slim, the powerful—and timely—romance film she penned that's already garnering Oscar buzz.
Waithe arrives an hour early for this interview; a lifelong, diehard Whitney Houston fan, she devoured A Song For You in three days and is eager to let Crawford know the impact she's had on her. "I don't exist in this world without you being as authentic as you were," Waithe tells her when they first meet. "Because yes, I grew up watching Whitney Houston on TV, but I would always zero in on you. You've got to be special for somebody to look past Whitney Houston and go 'Who's that?'"
Waithe adds that even before she had fully realized her own queer identity, she connected to Crawford. "I saw myself in you. And I didn't know why back then; I was a young person who didn't have the language to understand who I was yet. But I was aware I wasn't like everybody else. That, I knew."
And then, as a moody gray sky rains down outside the window beside them, Robyn Crawford tells Lena Waithe her story—her way.
---
Whitney Houston is as American as apple pie. She is Americana to me; she's an icon. What was it like having a front row seat to that journey? How did you have the emotional intelligence to share your best friend with the entire world while also being her assistant?
I knew early on what role I was playing in Whitney Houston's life. She made that very clear. The machine—and when I say "the machine," I mean the record company—back then, it was much bigger. And it was mostly men controlling pretty much all of it. So as soon as she signed a record deal, things suddenly became much more complicated, and she knew that she couldn't be two places at the same time—and as her best friend, I knew her better than anyone else.
So my role was: "I've got to protect her and let her know what's happening." I would get to the next spot on her itinerary 15 minutes ahead of time to get a vibe for the energy in the room so that when she got there, I could tell her what to expect.
We were a team. We always knew she had a bigger purpose, and we were ready for this. We were fearless, ferocious, intelligent, beautiful, strong, and determined. She had me, I had her. And our eyes never left each other. But I knew my role. I was the number two.
A lot of us have been wanting to hear from you for a long time. But many people's question will be "Why now?" I'm personally happy that you got the chance to speak your piece, because there's been so much said about you and Whitney over the years. You come up in [her mother] Cissy Houston's book, in Bobby Brown's book. Bobby even said something like, "If Robyn had stuck around, Whitney would still be alive," which was a very heavy statement. After all these years, what made you say "It's time?"
I had comfort in my silence for many years. When her daughter Bobbi Kristina passed [in 2015], that's when I first really felt the need to stand up, hearing the way people were treating Bobbi, Whitney, our friendship, and their version of my story. And I felt the legacy of my friend was buried underneath all of that. That's when I had to ask Nip about writing this book. I actually sat there and asked her up above: "What would you want me to do? Do you understand why now?" Feeling her yes, that was my clearance. When I felt complete in my being that I could have the confidence to stand up and lift her legacy out of the trash, to elevate it and put it back in her hands, while also honoring our friendship...that's when I felt ready.
I will say, and I mean this as a compliment: I think you're very polite in the way you talk about certain things that happened.

Yeah. I'm not trying to get back at people.
You write about the two of you meeting as camp counselors as teens. I loved how almost immediately you're like, "Look man, she wasn't no angel." You describe her pulling a joint out of her bra. But then there's a juxtaposition where she's like, "Yo, come hear me sing at church."
She was a bad girl. Nip would get you in trouble!
So here's the thing. I think people all have the same question. "Were y'all together, or not?" What I love, as a queer person myself, is that when you're describing when you were first intimate as teenagers, it felt no different than, I think, most young women's stories. I think what you describe is so innocent.
We were exploring each other.
But then you decide to end your physical relationship. And not long after that, you move in together. And if I can keep it 100, as I read that, I said, "This feels like a disaster waiting to happen."
But why?
Because, yo...look. Even though you guys had a conversation about ending it, you're a human being—you can't shut off feelings that quickly. You write about living together and watching her secretly dating Jermaine Jackson...who was married at the time. How could you deal with all of that, given your history?
Well, we had one vision, and that was to make her dream happen. I left school not to be her lover, but to be there for her. To work and watch her rise. I believed in the dream that she painted. When I saw her in church, I felt the energy. I was a witness. I knew she had a powerful gift to touch people that was much bigger than either of us.
Yes, we ate up that first summer together, talking about everything, talking about music, spending time together, misbehaving together. You name it, we did it. We were intimate with all of it. And the physical part was like a river. We both dived in, and there was goodness there. But the big picture was always where she was going. And our friendship was the foundation.
My other question is, and we're jumping ahead in time a little bit—but I can't imagine being in your shoes as maid of honor on her wedding day to Bobby Brown.
By then, we were so past that. But I will say I did feel that I was losing her in some way. Because back then it was very much when a woman gets married, you lose them, because they are committed to their marriage entirely. So, I did feel that, looking at her on her wedding day bonding her life with someone else...I did see that in her eyes that I was losing her.
Were you skeptical about her marriage to Bobby?
Not at all. I really wanted this to work for my friend. I wanted whatever vision she dreamed for herself—I wanted her to be happy. Look, I heard the rumors about Bobby just like she did. I didn't know anything else about him beyond what everyone else knew. That he was a womanizer, that he was over here with this one, that one. But he was obsessed with Whitney. Later on, though, I realized that Bobby never knew Nip. He never got to be her friend.
But as far as watching her date other people...When I found out she was dating Jermaine Jackson, I was more disappointed that she felt she couldn't talk to me like a girlfriend. I mean, he's a Jackson! We grew up loving the Jacksons. If we were friends, why shouldn't we be able to talk about that?
I write about that night when I confronted her about what was going on between them, how I could feel that there was something between them. So if you want to talk about the physical part between Whitney and I...yes, I could feel that she was being physical with other people, starting with Jermaine.. I didn't need her to tell me. And I cried.
I understand that it was a different time, and back then there was maybe no way for you guys to have a conversation about your intimate relationship, because it seems like you both felt there was no way for it to evolve. But at that point in your relationship, was she able to say, "Are you okay with this? Is this weird for you?"
No. It wasn't, "Are you okay with this?" I had to be okay with it, because we had already said what was best for us, what was best for the journey.
But emotions are emotions.
Emotions are emotions, which is why she just stood there and let me let out my anger by tearing that room up. And then she said: "Okay, now clean it up."
When you mention she was dating Eddie Murphy and Bobby at the same time, yet Eddie wasn't giving her the time of day...I was really shocked about that. Especially the fact that Eddie called Whitney on her wedding day to tell her not to marry Bobby.
That was nuts. On her wedding day, Whitney is telling me about his call, and I'm in and out the room as the maid of honor as she's getting ready, and I'm just listening. I didn't really know the ins and outs of what was going on with her and Eddie. All I saw was my friend chasing a guy who did not deserve her.
I don't think Eddie will ever speak publicly about them dating, even though there were obviously pictures of them together.
He called them friends, but he didn't show me someone that was a thoughtful friend. But she spent a lot of time with Eddie, I remember she had a few of his shirts. She loved him. Whitney liked dark-skinned guys. She had a type. Like, she would've never dated a white man. [Laughs] And you know what? Whitney told her personal assistant Sylvia and I that she wasn't going to get serious with Bobby. Whatever went on, she showed signs that her heart was really with Eddie.
So when you found out she was marrying Bobby, how was that for you? Were you like, "Okay, how's this going to affect us? Do I got to deal with this dude?" I remember in the documentary Can I Be Me, there's footage of him trying to pal around with you. And you seem a little annoyed with him.
Oh, I was annoyed with him on that tour, because he was annoying. But we were cool. There were no Everlast shorts and boxing gloves and all that stuff people like to say about me and Bobby. He never raised his hand to me. Now, I never had a real substantial conversation with him, either—the kind where you connect with someone, sit down, and talk to them. I would just see Bobby perform. That's what I'd call it. I'd see him behave in a way that...maybe, it was jealousy, or you might mistake that for him being protective of Whitney. But I didn't have this conversation with Whitney about it.
And I write in the book, I'd buy gifts for someone from Whitney. And Bobby would flip. When I mean flip...that's when he'd get in my face. And Whitney wouldn't say anything.
And that's what happened when you eventually left Whitney's team. You bought a shirt for George Michael on behalf of Whitney, and Bobby was upset, and Whitney didn't do anything—and that was the last straw?
Yeah. That was cumulative. I had been dealing with a lot of things with him over the years. Him answering her phone and hanging it up. A lot of jealousy. And it wasn't necessary.
One of my favorite Whitney interviews is the last one she did with Oprah, which was eye-opening for a lot of people. We knew her marriage with Bobby wasn't easy, but she revealed a lot of dark things in that interview, about him spitting at her, ripping her face off a family portrait. I'm assuming you weren't shocked by any of that.
I never saw Bobby spit on her. I never saw him physically hit her. But I would get the calls from Sylvia, who was there all the time. And I'm talking in the wee hours of the morning. So, I wasn't surprised when I heard Whitney say those things to Oprah. And I'm sure she left a whole lot out.
In the book you reference going to visit her cousin Dee Dee Warwick when you two were teens. But as you know, in the second documentary, Whitney, there are allegations that Whitney was abused by a family member—and that family member was Dee Dee. But it's not something you bring up in the book. Is that because you felt those allegations weren't accurate?
Whitney was very close to the Warwicks, before super stardom and during. She talked a lot about Dee Dee, how talented she was as a singer, how funny. And Whitney and I talked a lot about our families. She told me everything. So if there was any truth to that, I would've known. I don't have any doubt about that.
It's tricky, because they say she was touched by a woman. And then it's insinuated "Oh, maybe that's why she was so confused about her sexuality." The whole thing is a little murky and it could also be a little bit dangerous, in my opinion. Because then it's like, maybe that's what drew Whitney to you, so to speak.
Is that what people are implying? The Whitney I knew never talked labels. Never.
Understandably, in your book you say you found it hurtful the way she responded when she was asked about her sexuality. I've seen interviews where she would respond with things like "Whitney's only gay when she's happy, honey."
I didn't like some of the things she said. I didn't feel like it was helping things. But she didn't care at that point. She would say: "They'll say what they want to say."
As for me, I don't label myself today. I don't feel like I have to slap a label on my chest just because I found love with my wife. Just because I choose to stand up for anything that I choose to support, doesn't mean that I have to be this or that. I'm just Robyn. And Whitney also always pushed back on labels. That went for her music, too. She didn't sing Black music or white music; she just sang.
It was very harrowing to read about when you left Whitney's team. It's a very dark portion of the book, but it's almost my favorite part because you're rebuilding yourself. And that led you to your lovely wife Lisa. And I'm glad you dedicated the book to her, because obviously, the love you had with Whitney led you to your everlasting love with Lisa. Which is almost like—what greater gift can a friend give you than a life partner? I call that the third act of the book, about you leaving your friend—
I have to say, I never saw me resigning as leaving my friend. I never felt that.
Do you think she was a little hurt by you quitting, though? Do you think she was like, "Robyn! F*ck."

I think she felt just like I felt. That it was time. I didn't feel like I was being effective; I didn't have her ear anymore. We had been off track for a long time. She called me after I handed in my resignation, and she said we would talk more. But that talk never happened. You know, Whitney didn't like confrontation. I wanted to meet someplace away from distractions, because there were always several people at that house. But there was no down time at her and Bobby's house...no peace, no quiet.
What was the last thing you did say to each other?
The last time I spoke to her was probably the time she called me after she called 9-1-1 about an altercation with Bobby. She called me that night. And the very last thing we said to each other was what we always said to each other when we would hang up: "I love you. Call me." And we never got to call each other again. But she's here. She's with me, I know she is. And she's never left.
Tags: Whitney Houston,, Robyn Crawford, Lena Waithe