ABBY WAMBACH – WE'RE NOT WORTHY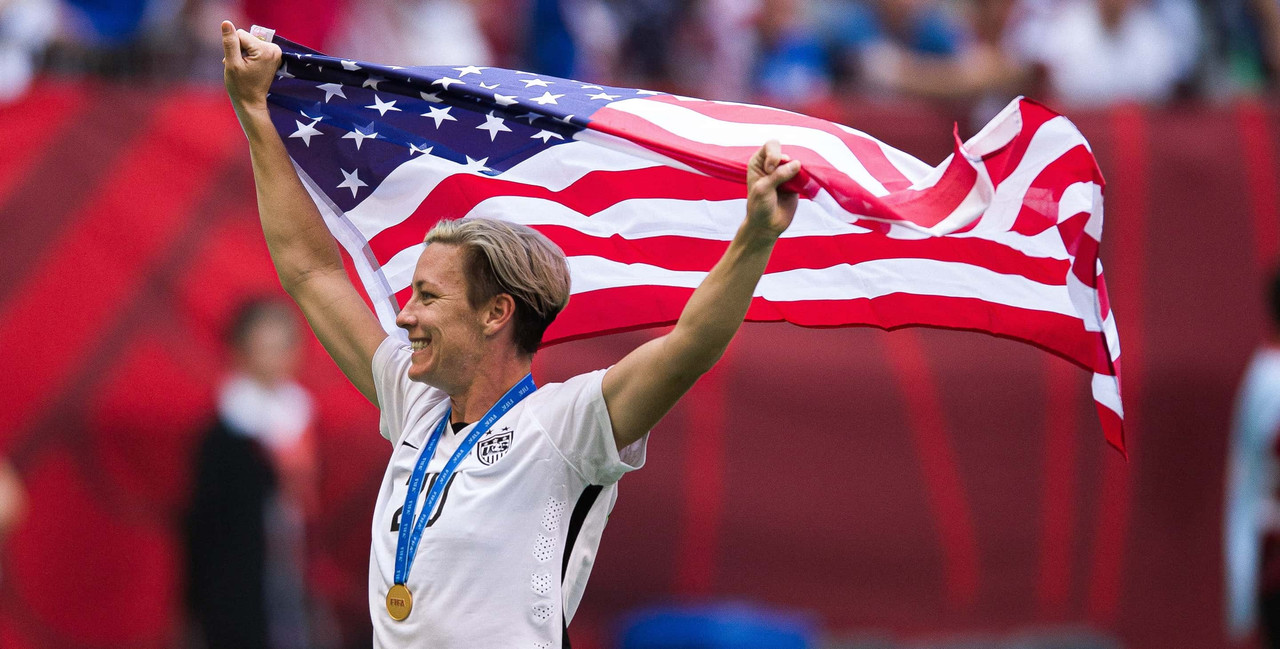 No one, man or woman, has scored more international goals than Abby Wambach. She's a legend by any measure. It's curious then, that on the eve of her inevitable induction in the National Soccer Hall of Fame, she chose first to consider the doubts that plagued her early in her career. "I was terrified because I was the by far the worst player there," said Wambach, ever humble and searching for answers, about her first call-up to the U.S. Women's National Team back in 2001. "They all played in fast forward, and I was like a turtle trying to catch up and always falling behind and not knowing what was going on."
Born in a Pittsford, a small town in upstate New York near Rochester, Wambach was the youngest of seven children in a sports-crazy family. Her earliest memories are of being carted from one sporting event to another on mom or dad's hip, watching her siblings perform on basketball and volleyball courts. Soccer fields too. On the surface, her slide into the game was in no way noteworthy – the usual route through local rec leagues. "But when you're a kid in a big family, it's part of your job to figure out how the whole system runs and your part in it," said Wambach, who found an identity early in the game. "Soccer helped me do that. It helped me get noticed and give me a sense of worthiness."
'HOW TO PLAY SOCCER' – BY THE BOOK
The Wambachs weren't stepped in soccer culture or know-how. When Abby's oldest sister Beth wanted to play the game, mom and dad went to the public library and checked out, "'How to Play Soccer', I think the book was called," laughed Wambach, once a Women's World Cup winner and twice an Olympic gold medalist. "That's really how the game came into our family."
She took to soccer straight away. And it wasn't just that young Abby was fearless (she was, and remained so throughout a near two-decade career in college, pro and the National Team). Her acumen for scoring goals was obvious, and ominous, from the start. She bagged 27 in her first three games in youth soccer. "I knew this thing [soccer] would serve me in multiple ways. It was active and positive and it helped with self confidence."
Wambach excelled at the Olympic Development (ODP), State and Regional levels – mainly due to her ability to find the back of the net. Her first call into a National Team camp came when she was 15 in 1996 when she was already showing glimpses of the aerial ability and physicality that would make her virtually unplayable later in life. But, again, there were doubts. "I remember it really well, the feeling unworthy and like I didn't belong. All these other 15-year-olds were so much better than me," said Wambach, who was called in over and over up the youth chain through U-16 to U-21 camps. "But I knew I had more potential than I was showing. I was really raw back then. I didn't like to train. I liked to play games and score goals, but there was still something missing."
The underlying goal for a young Wambach was securing a full scholarship to play in college. That was the springboard. "It brought a sense of autonomy – like I'm down here on Planet Earth and I have control of my life. It was essential for my growth as a person, but I didn't really have any aspirations," admitted Wambach who still had doubts despite being a high school all-star and a NCAA national champion in her freshman year at the University of Florida where she won four-straight Southeastern Conference titles and scored 96 goals with 50 assists in 93 matches. "Of course I dreamed of being on the National Team, but there was nothing inside me that said I could, and I wasn't confident that I could. I was a million miles from [Kristine] Lilly and Mia [Hamm] and Michelle Akers – to even watch those women play felt like an accomplishment. I didn't understand playing with them was possible."
ON THE CUSP OF GREATNESS
Not only was it possible, it was closer than she knew. After one U-21 National Team Camp, coach Jerry Smith [husband of Brandi Chastain and head coach at California collegiate power Santa Clara] called Abby in for the usual post-camp assessment. "He told me, basically, that my physical fitness is holding me back," Wambach remembered. "But he also told me I had everything else I needed and, if I could make some changes, I could be in that impossible place of the National Team. It was one of those oh-wow moments. He reached me and pushed me beyond my fears and feelings of unworthiness."
Inside three months Wambach was called to the full National Team for the first time. She was 21 and thrown in beside those legends she'd only considered on TV screens. World beaters and heroes of the transformational 1999 World Cup like Kristine Lilly, Brandi Chastain, Julie Foudy and Mia Hamm. "It was basically like an out-of-body experience. I was asking myself, 'is this real life?'" Wambach said. "It was that really important time that people don't really talk about. It's a character test. How will you handle it? Here I am again not feeling worthy. I told myself 'play my game. Remember what I'm good at. I can't be someone else. I knew I could score goals, so I focused on that."
It wasn't an easy transition for Wambach, from preternatural goal-scorer to conscientious athlete, doing the little things to become the best she could be. "It's a lifestyle change and I had to surrender to the process of becoming a serious athlete and a competitor," she said of those early days in the cauldron of the National Team. "But nothing you did before the National Team matters – not your high school medals or your college goals. In the National Team you have to bring one thing that no one else can."
MIA HAMM'S IMPACT
Wambach's graduation from an astonishing collegiate career and her first taste of the full National Team coincided with the forging of a major relationship in her soccer life (and life in general). She was drafted second into the now defunct Women's United Soccer Association (WUSA) by Washington Freedom – a disappointment for such a competitor. "But I got over the disappointment really fast because I saw that I would be playing with Mia Hamm," Wambach said, still thrilled by the pivotal moment all these years later. "I made it part of my plan to take every opportunity to soak up everything I could from her. I told her all the time 'Mia, you're the best so tell me everything you know'."
The relationship with Hamm – on and off the field – helped ease Wambach's transition into the mainstream of the National Team, where it soon became clear that she represented the next generation coming up on the heels of those much-vaunted 99ers she once idolized and now shared the field with. She was in line for a leadership role and to help guide the transition away from that generation and into an uncertain future. Whether it would be one of success or failure was, in many ways, up to her. "I went from a pretty good player to a player people relied on to score and win games," Wambach admitted of that transition. "And all of that is down to Mia – I learned that straight from her."
Wambach's goal record is easily quantified. She scored 142 in high school. 96 (a program-best) in college. 114 with her four clubs. 184 for her country. But her fearlessness, courage, willingness to play through pain and put a team on her shoulders, her all-around bravery, isn't as easy to convert to arithmetic. She played the entire 2007 Women's World Cup – a bumpy tournament with drama on and off the field – with a broken toe, getting game-day injections to dull the pain. "It was numbed up during games, but the pain was so bad after I could barely sleep," she said of the injury she kept secret so it wouldn't sound like an excuse. In that same tournament, in a first-round draw against North Korea in Chengdu, China, she had her bloody head stapled in the tunnel, all the while cursing the trainers to hurry up so she could get back on the field and do her job. It's hard to forget the broken leg she suffered against Brazil on the eve of the 2008 Olympics in Beijing – an injury bad enough to threaten anyone's career.
TWO KINDS OF PAIN
"No professional athlete every plays one hundred percent," Wambach said, eager not to make too much of her legendary grit. "But I always wanted to avoid the emotional pain – that's stuff you can remember. The physical pain, you can't remember and that's why women can endure multiple childbirths. It was never a problem for me to have my head stitched up or my ankle wrapped. I could always overcome that kind of pain somehow. But there' some pain you can't get past and you want to stay away from that."
Of her 184 goals for the USA, she remembers one above the rest – mainly for the emotional pain it helped sooth. "It was the one against Brazil in 2004. That was a big one for me." In true Wambach style it wasn't because of the glory or for being lifted up on shoulders with an Olympic gold medal around her neck. It was important because it set the record straight. "The year before, in Portland, we lost to Germany in the World Cup in part because I lost my mark on a corner-kick. I let a lot of my heroes and teammates down that day, women who were getting toward the end of their careers," she said, still feeling it. "I felt to blame for throwing this team off track and putting its future in doubt. It was a huge relief to get the goal against Brazil for them and set it right in some way."
The trophies and medals speak for themselves. The list of achievements is luridly long.
She's a six-time winner of U.S. Soccer's Female Athlete of the Year (the most of any player), a World Cup winner and Olympic champion. She became her own Barbie Doll, appeared on the cover of video games. She was the first soccer player to be named the Associated Press's Female Athlete of the Year. She's a FIFA Women's Player of the Year and, in 2015, she was named to Time Magazine's list of the 100 most influential people in the world. And when you watch the world-beating stars of today, the likes of Alex Morgan (who wore Wambach's name on her shirt in a 2019 tribute), you see the indelible legacy of the world's top scorer.
TIME CALLED IN 2015
Bruised and scarred, Wambach called time on her playing career in 2015 after admirably playing a role off the bench for most of the World Cup in helping the USA win the tournament for the first time since 1999. Married now and a step-mom (she prefers the term bonus-mom), she's done the work of finding that hard-earned identity beyond the soccer star she was her whole life. "When you excel at something for so long you get defined by it," she said, taking joy in her own daughter's obsession with the 2019 U.S. National Team and the Rapinoes and Morgans who've picked up the banner she helped carry and pass on. "I was on that path so long that I have to remind myself that soccer isn't what made me special. I brought my special qualities to soccer."
She did. And we're all a little better for it. A thinker and a humble human trying to navigate the world, Wambach is refreshingly ambivalent about her induction into the Hall of Fame as she tries to find balance in her life and her new roles of author, mom, speaker and leader. "As I try to recreate myself in a different way, the induction really matters not in the day-to-day of things," Wambach admitted, knowing and learning her worth, overcoming doubts and fear in those columns beyond goals scored and medals won. "But it's a feel-good and it makes me proud. I'm humbled to be spoken of in the same sentence with Mia Hamm, so many others and and all my amazing teammates who I shared so much with. It's a time now when I can look back on the stuff I used to obsess about and be happy and giggle a little – because none of it matters anymore."
What remains is her legacy, that of a true champion, the ultimate big game player and a fantastic teammate who in the end, pursued one main goal bigger than winning: leaving the sport in a better place than she found it. Mission accomplished.

ussoccer
Tags: women's football, Abby Wambach