Lena Waithe and Halle Berry lock lips in Jimmy Kimmel Live make out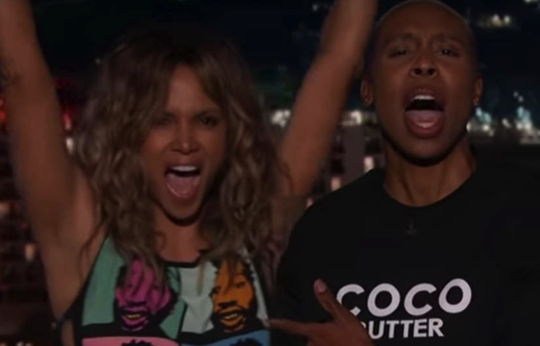 Halle Berry and Lena Waithe. FULL SHOW CLICK HERE.



When Lena Waithe took over the hosting spot for Jimmy Kimmel Live, she probably didn't expect to be making out with actor Halle Berry.

During Lena's opening monologue in the guest host spot last night (22 May), she spoke about how nervous she was.

Talking to comedian Guillermo Rodriguez, she asked: 'Do you have any advice for me tonight?'

He responded: 'Just be yourself and don't let that son of a bitch, Matt Damon, on the show!'

She then asked: 'But look, I'll be honest — I'm feeling a little nervous [so] I could use some words of encouragement or something.'

Guillermo suggests to push the 'Berry button'.

He pushes it and Halle Berry suddenly appears!
Halle Berry: 'Now, you're good!'
After offering some advice to Lena on how to host the show and not be nervous, Halle then says: 'Now, you good or do you need something else?'

'I think you need something else,' Halle says, as she pulls in Lena for a steamy extended kiss.

'Now, you're good!' Halle exclaims post-kiss.

Watch the moment, starting from 5:23:



GSN



.

Full show w/
John Travolta, Ella Bleu Travolta, Lala Milan and Chika.
Tags: Halle Berry, Lena Waithe