Suranne Jones: 'I put all the bad stuff to one side, and worked and worked'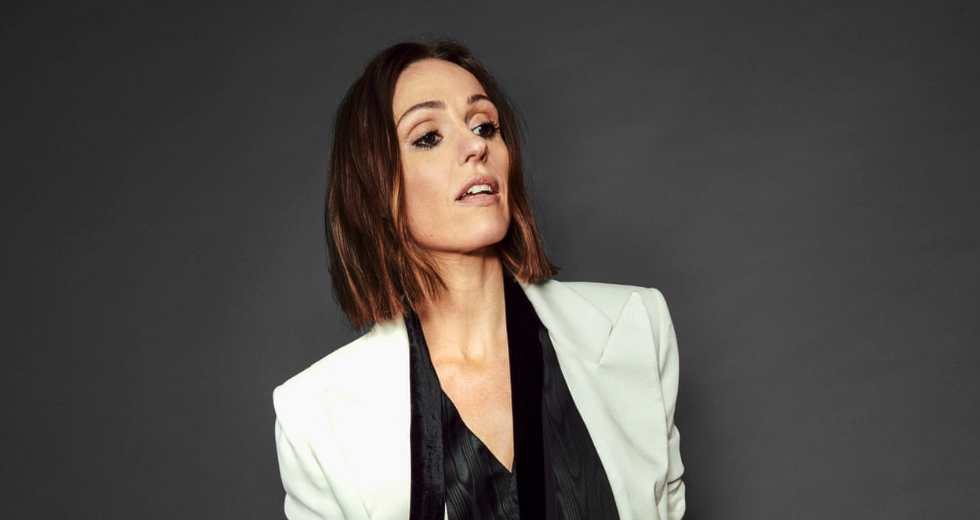 The actor Suranne Jones, a can-doer from Greater Manchester who hoiked herself up from regional musicals and the soaps to become a prized figure on stage and in prestige British telly, is a proactive and restless character. At 40, Jones says, she will sometimes look in the mirror and get the uncanny sense of her own mother staring back: "same crooked nose, same big eyes like a pixie". But she has the lively energy of a teenager and sets a brisk walking pace, skipping along the pavement from the photography studio to the nearest pub, talking at 1.5 speed. Jones is the first person I've met who, after our conversation, will record and email me voice notes (like mini podcasts, or extra-credit homework assignments) that expand on earlier talking points.
It's been a wild few years, the actor acknowledges. She got married in 2014, had a son in 2016. As for her work: "Betrayal! Murder! Paedophilia! Betrayal!" is how Jones summarises what looked, from the outside, like a flawless professional run from 2015 to 2018. She was fantastic as the lead in the BBC noir Doctor Foster, the story of a small-town GP made icily vengeful by the discovery of her husband's infidelity. (That was the betrayal.) Then she was a mother who'd lost a daughter in Lennie James's award-winning drama Save Me (murder), and after that another mother whose daughter had been abused in a West End production of Bryony Lavery's Frozen (paedophilia). Amid all this, she won a Bafta for the first series of Doctor Foster and filmed a second (more betrayal).
"I look back and go: wow. I'm not surprised it affected me along the way," Jones says, adding: "Something had to give." What gave, in the end, was the West End gig. Jones pulled out of Frozen in February 2018, after suffering some sort of collapse backstage, mid-show. At the time she posted an apologetic note on Instagram, suggesting that the pitch-black subject matter of the play had finally overwhelmed her. Honestly, Jones tells me, there was a little more to it than that, and later in the pub she'll talk, cautiously, about other factors that underpinned her emotional crash.
For now she wants to talk about happier things, like her two-year-old son, just crashing into potty training and "the big move to a big bed". Jones also talks with fierce pride about her forthcoming show, Gentleman Jack, early episodes of which, broadcast in America, have been getting positive reviews. Conceived and written by Happy Valley's Sally Wainwright, Gentleman Jack tells the true story of Anne Lister, played by Jones, a 19th-century industrialist who once sank coal mines in Halifax and is described on her blue plaque as a "gender-nonconforming entrepreneur" who advocated for same-sex marriage roughly 200 years before such a thing was legally recognised.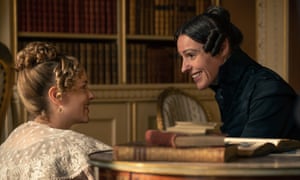 As Anne Lister (right) in forthcoming show Gentleman Jack.

Lister was a character, one probably overdue an appreciative revival. "Lesbian wasn't a word to her," Jones says. "Anne just loved women, and she believed it was her God-given nature that she needed to be with a woman. You can't believe how modern all this was in the 1830s. How exciting. How dangerous. How... what's the word," Jones asks, "when you're pushing boundaries? The word will come to me. Begins with 'c'. Argh. Tired baby brain. If you think of it, put it in." (Later the answer comes via text message: "Transgressive! Didn't begin with 'c'!")

To get her head in the right place before Gentleman Jack, Jones read great chunks of Lister's published diaries. "It's all there for you – four million words. It's almost too much. You get every single thought: 'I'm vulnerable. I'm strong. She's a pain in the arse. No, I love her.' It was like seeing someone's brain on the page." At times, reading the diaries, Jones got the sense that Lister saw herself as a sort of science experiment. "She spent a lot of time in front of a mirror, uh, looking down below. Because she felt so unusual within that society, she felt like she had to explore her body, biologically."

More than anything Jones noticed how sure-footed and at ease with herself Lister was – how early in her life she had it all figured out. "She wanted to marry a woman she loved and she talked about that in her diaries from the age of 16. That was amazing to me, that she knew just who she was." In the new show, we pick up with Lister in the 1830s, when she is a quick-talking, ambitious, lusty, horse-executing fortysomething. Episode one (which is all that was ready for me to see) is a blast.
Tags: Anne Lister, Gentleman Jack