A look behind the luscious sex scenes on LGBTI tale Gentleman Jack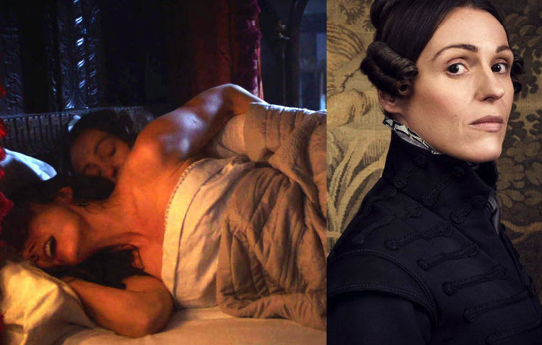 Suranne Jones is lesbian icon Anne Lister.



Ever cringed at the way lesbian sex is portrayed on screen? Well, that won't be the case with HBO/BBC show Gentleman Jack.

This new LGBTI period drama is an American-British production on the adventurous life of lesbian Anne Lister. And it's proof that you can have woman-on-woman action which doesn't feel artificial or, worse, filtered through the male gaze.

The show stars Suranne Jones in the role of Lister, an unconventional figure for her time. Even more so if put against her uptight, snappy sister Marian, portrayed by Game of Thrones star Gemma Whelan.
Gentleman Jack
Lister was a landowner, an industrialist, and a sex-positive, gender non-conforming lesbian also known as Gentleman Jack. And it's Victorian England we're talking about.
Creator Sally Wainwright brought an intimacy coordinator on board to choreograph the (many) sex scenes on the series. And it shows.
What we may now call a butch lesbian, Anne Lister 'wanted to deny her own femininity and didn't want to show her own breasts and wanted to give pleasure to her partners,' intimacy coordinator Ita O'Brien tells GSN.
'We just looked at someone coming from that place of empowerment and coming from that more masculine point of view and just took that into the dynamic of the intimacy.'
O'Brien has spent years developing the best practice when working with intimacy, scenes with sexual content, and nudity in film, TV, and theatre.
What does an intimacy coordinator do?
If you had no idea such a role existed, you're not alone. The profession is brand new and it's a positive consequence of the MeToo movement.
It all comes down to safety and consent. If it's common practice to have a fight coordinator on set to plan a duel scene, why can't you have an expert working through a sex scene with the actors to make sure it feels natural and everyone is comfortable with it?
'The intimate content in our lives is natural and so it should be in our storytelling,' O'Brien continues.
'It should be dealt with in an adult, open and actual way. It should be dealt with in the same way as any other part of the script or play is dealt with.'
An intimacy coordinator talks the actors through the quality of a sex scene, including the positions and the lead-up to it.
'Lister loved having sex with women'
Before shooting Gentleman Jack, Wainwright had never directed a sex scene, but it became crucial to have one to do Anne Lister's story justice.
The LGBTI pioneer, commemorated with a plaque in 2018, wrote about her many female lovers in her diary.
Her journal is a precious document she kept throughout her life. 27 volumes of 300 pages each, mostly written in code as being openly LGBTI wasn't an option at the time.
'We live in very enlightened times now and we were very conscious that a huge part of Anne Lister's life was her sex life,' explained Gentleman Jack's producer Faith Penhale at the London premiere of the show.
'She was very sexually active, she loved having sex with other women. We knew as we were approaching that that in all areas of drama you have to think about how you're going to really take care of the actors.'
Penhale explained how O'Brien gave the cast 'a language to be able to talk about how we may approach those scenes, just thinking about choreography, emotion, all aspects of it'.
An open discussion
Someone might argue that having an all-female team makes it easier for such topics to be addressed.
'It was a really positively beautiful experience, coming into rehearsals before even starting filming and being in a room full of women and having someone lead the discussion where you can talk about your experiences, both positive and not so positive,' says Sophie Rundle. The Peaky Blinders actor plays Ann Walker, Lister's bride-to-be.
'The intimacy, the tenderness is what we went for,' Suranne Jones also explained at the premiere.
'There's a lot of looks that we can do that speak volumes, I think. Being really comfortable with each other, it didn't have to gratuitous in any way.'
Nakedness vs. complete nudity
The first episode sees Anne tangling up to her married aristocratic lover Marianna Lawton, portrayed by Lydia Leonard. The scene feels so sexy, intimate and real that the fact both women are fully clothed doesn't interfere with the suspension of disbelief.
'If someone walked in on us, we had to very quickly pull our nightgowns down and pretend we were friends. It just works so well without showing too much,' says Jones.
Before you call prudery on that, it's worth noting that Gentleman Jack was filmed in Anne Lister's house, Shibden Hall.
'It's cold, they didn't have central heating. Therefore, we looked at the sensuality of the idea of nakedness as opposed to complete nudity,' O'Brien also says.
'With those big Victorian dresses, the idea of exposing the ankle or the joy and beauty of a shoulder… that's the kind of sensuality you're looking at in period dramas. There's a sense of nakedness, and undressing, and moments and bodies being exposed.'
Sex Education
Having an intimacy coordinator is becoming across several shows and films.
Alongside Gentleman Jack and several other projects, O'Brien worked on Netflix show Sex Education. The series deals with teenagers of all sexualities and gender identities dealing with the minefield of first time sexual experiences.
'We're looking at who these characters are, what their intentions and desires are, what they are nervous about and where that is in the body. All of that goes into how I support the actors to transform physically to tell their stories,' O'Brien says.
'Both actresses were telling a story,' she says referring to best friends turned lovers Ruthie and Tanya.
O'Brien is currently working on the second season of the beloved show, but it's understandably tightlipped about it.
'There are some lovely explorations of same-sex. And same-sex sex scenes as well,' she says.
'[Creator] Laurie Nunn is just so superb, and all the writers are, in continuing to create complex characters who aren't just black and white, so I think you're in for a treat.'

GSN
Tags: Anne Lister