The First Look at Netflix's 'Tales of the City' Sequel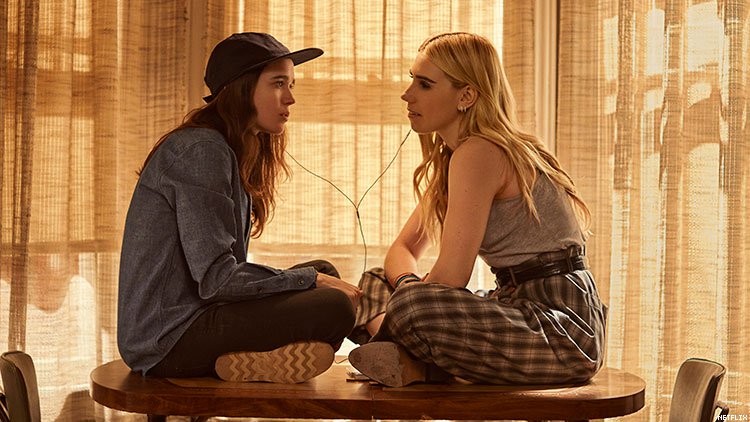 Hopefully you're ready to dive back into, or get familiar with, the world of Barbary Lane. Netflix's sequel to the 1993 television miniseries Tales of the City that became a queer, cult classic is just around the corner, and we've got your first look at the updated series.
Inspired by the infamous books by Armistead Maupin, the show follows Mary Ann Singleton who returns home to San Francisco for the first time in 23 years as Anna Madrigal celebrates her 90th birthday. The return reunites Mary Ann with her daughter and ex-husband Brian as she falls back into the lives of her chosen family on Barbary Lane. Laura Linney reprises her role as Mary Ann along with Olympia Dukakis' Anna and Paul Gross' Brian. Ellen Page plays Mary Ann's daughter, a new character to the series, but pulled from the book.
The original series (which you can watch on Amazon Prime) was deemed a seminal piece of television for its depiction of queer people with humor and respect. But as happens to parts of queer history, its importance was loss to the annals of time. Showrunner and executive producer Lauren Morelli (Orange Is the New Black producer and wife of the gorgeous Samira Wiley) hopes their show can revive its memory and extend its legacy.
"In talking to people [about the show], there had been this drop off point where, below a certain age, it seemed like a lot of people were totally unaware of such a landmark thing," she told Out. "It felt really exciting to get to dive back into an overtly queer community and bring in some new faces and new generation of character and audience."
Morelli, along with executive producer Alan Poul, lead a team centering LGBTQ+ perspectives in front of and behind the camera. Their entirely queer writer's room included Andy Parker, Patricia Resnick, Marcus Gardley, Jen Silverman, Hansol Jung, and Thomas Page McBee. LGBTQ+ directors Silas Howard, Sydney Freeland, Stacie Passon, and Kyle Alvarez help bring the world to life. And trans talent include nonbinary actor Garcia, actress Jen Richards of Her Story fame, and Daniela Vega, the lead of the Oscar-winning Chilean film A Fantastic Woman, as well as Thomas Page McBee, Howard, and Freeland.
Because "Barbary Lane is a safe haven for the characters and where this chosen family is formed," Morelli said she hopes the new series can be that for the audience.
"I think we could all use a safe space right now," she said. "We could all use a breadth of warmth and empathy, and it's a really fun ride."
And considering the series will return around Pride and the 50th anniversary of the Stonewall Riots, she notes a standalone flashback episode that will be part of the 10-episode show inspired by the Compton's Cafeteria riot, in which Richards plays a young Anna Madrigal.
"Getting to tell some queer stories about our history and legacy that haven't necessarily been represented on screen before is really exciting," she said.
Netflix's Tales of the City premieres this summer.

Out
Tags: Ellen Page