Lesbian singer Bitch drops the feminist banger we've all been waiting for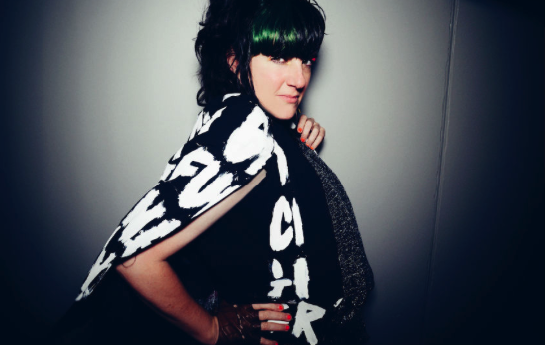 Kate Mould is Bitch.



Punk lesbian singer Bitch has blessed her fans with the queer, feminist pop anthem 2019 needed.

Formerly part of queercore duo Bitch and Animal, popular for touring with bisexual artist Ani DiFranco, Bitch, aka Kate Mould, has gone solo since 2005.

Her new song New Year is the first single in a decade, leaving fans stoked about her long-awaited comeback.
Thoughts for the new year
As the title might suggest, New Year started out as a poem written at the end of 2018.
'It was New Year's Eve and I was doing this ritual of writing down all the things I wanted to let go of,' Bitch says.
'I was ripping the pages out and throwing them into the fire, and that led to the first stanza: this idea of wanting to forgive everything that's harmed me.'
It then turned into a powerful, deeply feminist hit.
'New Year is about taking stock of where we are as women in society, seeing what we have been sold, what we have bought into, and deciding to re-write our futures and move towards that with sheer entitlement and joy,' Bitch tells GSN.
'For 2019, I hope for women to keep pushing forward and taking up more and more space,' she also says.
'In politics, in science, in art, in our language… in all aspects of life.'
Fighting against gendered language
The song is all about empowerment and 'claiming who you are, and letting go of patterns that no longer serve you,' she explains.
With its brightly repeated refrain of 'I'm the woman,' Bitch is also challenging gendered language.
'So much of our language is built on empowering men, and part of my life's work has been to make sure we're also empowering women,' she says.
To that end, Bitch sees 'I'm the woman' as an alternative to 'I'm the man,' a declaration of independence.
Coming out
Bitch identifies as an L in the vast spectrum of the LGBTI community.
'My personal identity is "femme stud" but that's just my own description,' she further clarifies.
Is the idea of coming out as an announcement a thing we should bring into the new year?
'I think it's important for people to not necessarily come out, but to be out in their life because otherwise, they are hiding who they are.'
'The idea of coming out, however, puts the responsibility on the queer person to announce themselves, whereas I think it's important for our culture to shift to make room and normalize all identities and sexualities so there is no need to announce it, it just is, full of pride and normalcy.'
Revenge on patriarchy
Bitch also said she has been inspired by the powerful MeToo stories of survivors.
'I think every industry needs a MeToo movement,' she says.
'This behavior has been passed through our herstories for generations and generations. It's everywhere. I am more hard-pressed to find a woman who hasn't been harassed than to find one that has.'
'It is a systemic problem that men need to face and change. I have been so inspired watching how the movement has unified women, which is the ultimate revenge on patriarchy.'
Watch the video for New Year below:



GSN
Tags: lesbian artist