Important Lesbian Public Service Announcement: Cate Blanchett walks around half-naked while wearing a strap-on and kisses a woman in her new play.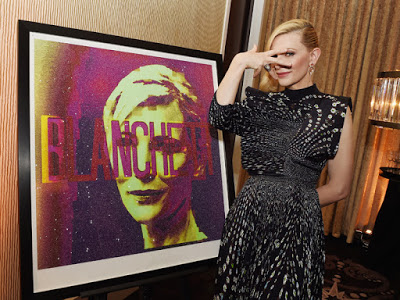 t has come to my lesbian attention that Cate Balnchett is in a new play where, if Twitter is to be believed, she walks around half-naked while wearing a strap-on and kisses at least one woman.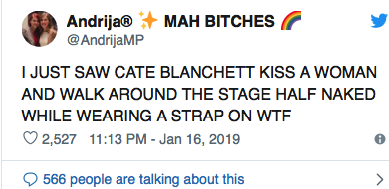 Yes, you read that right, including the words "half-naked," "strap on" and "kiss a woman."

The play in question is new work "When We Have Sufficiently Tortured Each Other" by Martin Crimp based on the 18th Century English novel "Pamela" also known as "Virtue Rewarded." Playbill calls the story a "dangerous game of sexual domination and resistance." The Guardianin a profile of Cate getting ready for the role calls it a flat-out "S&M-themed play." And gay women everywhere are just gonna call it "The One Where Cate Wears A Strap-On."

The play opened yesterday at the National Theatre in London and runs through early March. Alas, it's already sold out. But there is a Hamlton/Rent-style lottery for day-of tickets. So, if anyone wants to buy me a plane ticket, I would be happy to stand in line and provide a first-hand report.

You know, for lesbian science.

Until a photo emerges of Cate in said strappy situation, here is a photo of Cate biting her finger while thinking about you thinking about her wearing a strap on while kissing a woman.




Doroyhysurrenders
Tags: Cate Blanchett, Dorothy Surrenders