David's Bridal features a lesbian couple for the first time in its ads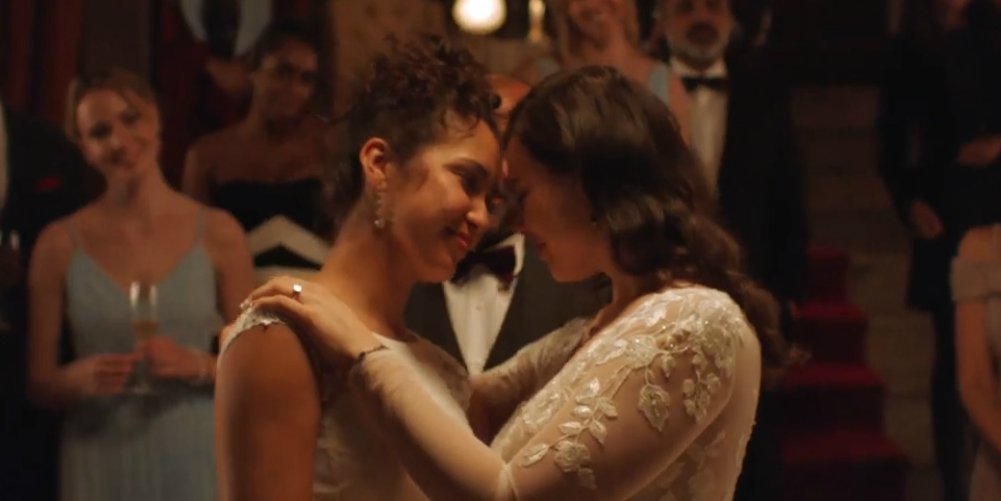 A new ad spot for the wedding attire giant David's Bridal features a lesbian couple, with the ad campaign telling brides to "rewrite the rules."
The focus of David's Bridals new ad campaign is inclusivity, highlighting diverse couples in love. "We wanted to make sure this spot represented what we see from brides today," Liz Crystal, chief marketing officer for David's Bridal, explained to AdAge.
While past David's Bridal commercials have mostly been about the beautiful gowns and the store experience, this one shifted its focus to what a wedding day is really all about: the couple. The ad starts with an interracial couple getting married in a redwood forest. They are followed by a couple at the altar, the bride holding her baby girl. After them, a lesbian couple dancing at their wedding reception. The ad concludes with a barefoot couple walking on the beach.



The narration for the commercial uses the traditional wedding rhyme, "Something old, something new, something borrowed, something blue," but it concludes on a different note, saying, "And above all else… something you." The message is clear: You can tap into tradition if you want, but more important than any tradition is a couple's love for each other.
David's Bridal filed for bankruptcy protection in late 2018, and this new ad highlighting LGBTQ marriage may help bring new life into its stores. According to the Williams Institute on Sexual Orientation and Gender Identity Law and Public Policy, LGBTQ weddings brought in $1.6 billion in growth to the national economy in the year after SCOTUS declared same-sex marriage legal. Those numbers have only continued to grow as LGBTQ acceptance increases.
People on Twitter celebrated the lesbian couple in the new ad, cheering for visibility, and joking that lesbians give David's Bridal the opportunity to sell two wedding dresses.

The "Rewrite the rules" ad campaign featuring the diverse couples will be played on TV, radio, and social media.

Dailydot
Tags: lesbian marriage