These two brides set their wedding dresses on fire on their big day - and wow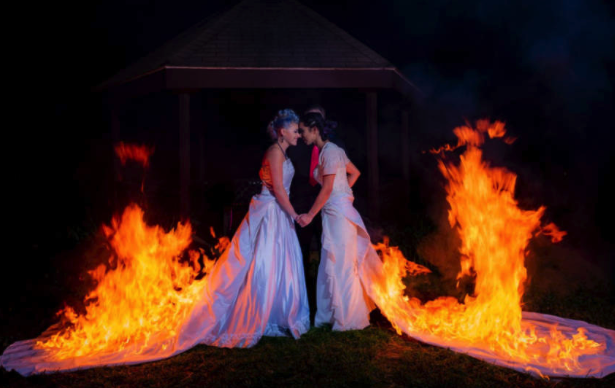 Two Iowan brides came up with an unusual way to literally heat up their wedding.
April Choi and Bethany Byrnes tied the knot on 13 October with a reversed ceremony, starting with the reception and continuing with a hot finale.
After the vows, the two brides set their wedding dresses on fire while still wearing them. We have a feeling Hunger Games Katniss Everdeen would approve.
The two brides are fire eaters
'Fire extinguishers ready?' asked the officiant, before announcing 'You may now light the brides'.
No need to panic as both Choi and Byrnes are variety entertainers with experience in fire eating and fire breathing.
The two women met in 2013 and got engaged in 2016.
'We do pretty extreme things, but neither of us is an adrenaline junkie,' Choi explained.
This is how we keep the flame burning
'The way we keep the flame burning between us is constantly doing really crazy and dumb things,' Choi also told Inside Edition.
Despite all the precautions taken to protect the brides, Byrnes admitted he was nervous.
'Seeing the other person lit on fire is definitely a little more nerve-wracking because you can't see yourself get lit,' she told Inside Edition.
Eight fire performers, a certified pyrotechnic and a medic helped ensure everyone's safety and make the ceremony one to remember.

GSN
Tags: lesbian marriage