Black Panther Sequel to Include Queer Love Story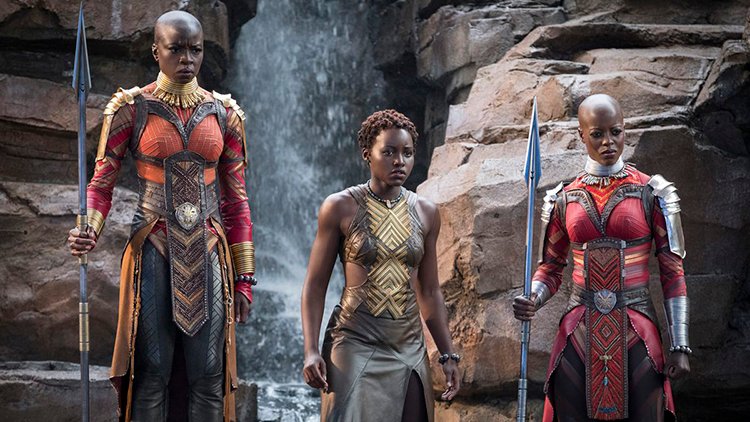 Wakanda forever!
Queer storyline rumors and Marvel movies go together like, well, superheroes and capes. Time and time again we've heard talk that this film is going to finally be the queer one. While the studio has without question taken strides in that direction — The Eternals, set to hit theaters November 5, features a prominent gay character — you can't blame LGBTQ+ fans for being a little skeptical when the latest round of rumors hits. (The less said about the whole Avengers: Endgame bait and switch, the better.) But here we are again, this time with the much anticipated Black Panther: Wakanda Forever in production, and along comes a new queer rumor that we can't help but want to believe is true.
According to insider Murphy's Multiverse (per Inverse), the Black Panther sequel will include a lesbian romance as part of its story. Michaela Coel (I May Destroy You) joined the cast back in July in an undisclosed role, and some speculated she could be taking the mantle of Storm, T'Challa's wife in the comics. However, it's now rumored that Coel has been cast in the role ofAneka, who fans of the comics will recognize as the leader of the Dora Milaje, the all-female king's guard. In the comics, Aneka is in a same-sex romance with another member of the Dora Milaje named Ayo.
The character Ayo, played by Florence Kasumba, not only appeared in the first Black Pantherfilm but was featured prominently in The Falcon and the Winter Soldier series, having befriended Bucky Barnes while he was living in Wakanda. She was also the one to confront Barnes and stake her claim to Baron Zemo after he helped the villain escape from prison. If there's been one takeaway from those interactions, it's that the audience could do with a whole lot more of Ayo. If these rumors prove true, fans will be getting their wish and then some.

While Marvel Studios hasn't commented on these rumors, its president, Kevin Feige, has made it clear that he's committed to greater diversity in Marvel's storytelling in Phase 4 of the Marvel Cinematic Universe. Audiences got a taste of that in the Disney+ Loki series, which confirmed that the titular star is both gender fluid and bisexual. However, the series didn't give Loki a queer love story — yet. That being said, if these latest leaks prove true it will be a major step in the right direction. That would be, well, just super.

Advocate







Tags: Marvel