"True stud" Elliot Page and "heartthrob" Mae Martin reunite after both coming out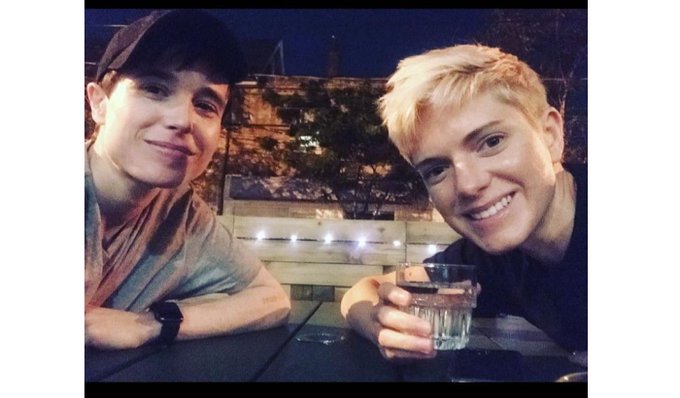 Elliot Page and Mae Martin had a reuniting of sorts this weekend, with both posting the same selfie with each other to their respective Instagrams.
"Chilling with this heartthrob," Page captioned his post. Martin said on their post, "reunion with true stud @elliotpage."
""PS I just finished season two of Feel Good on Netflix," Page added about the show that Martin co-created and stars in, "and if you haven't watched yet it what are you doing?"
Both entertainers have a lot in common — both are now 34, Canadian, and have come out publicly in the last year. Page came out in December 2020 as transgender, while Martin came out as non-binary and bisexual in April.
Martin, born in Toronto, is known as a stand up comedian and writer. Martin has previously written for the Baroness von Sketch Show on CBC and the comedy special Dope on Netflix. Their current show, Feel Good, which is also on Netflix, has earned them a BAFTA Award nomination and two Canadian Comedy Awards.
Page, born in Halifax, is known for his Academy Award-nominated acting who currently stars in Netflix's Umbrella Academy. He shot to stardom with the hit 2007 film Juno, for which he got an Oscar nomination. He also appeared in two X-Men films, co-hosted the docuseries Gaycation, and directed the film There's Something in the Water.


till, this isn't the first meeting between the two. They've actually known each other for 15 years.
Martin previous described to the New York Times how they "weirdly met" Page "in a bar when we were 19."
"I was like a weird sort-of homeless stoner – I had an apartment, but there were no locks on the door… [and] Elliot was filming X-Men [The Last Stand] at the time, I think, and we had a mutual friend," Martin said.
The two reconnected years later and have been friends ever since. Page confided in Martin prior to coming out publicly, which Martin said "was very inspiring, and reassuring." It helped Martin with their own understanding of their gender identity, which came "in the midst of it all" when they were "feeling quite stressed about it."
"It's nice to have someone you can bounce off of who's going through something similar," they said.

lgbtqnation
Tags: Mae Martin, Elliott Page