The White House installs an exhibit with LGBTQ artifacts & history for Pride Month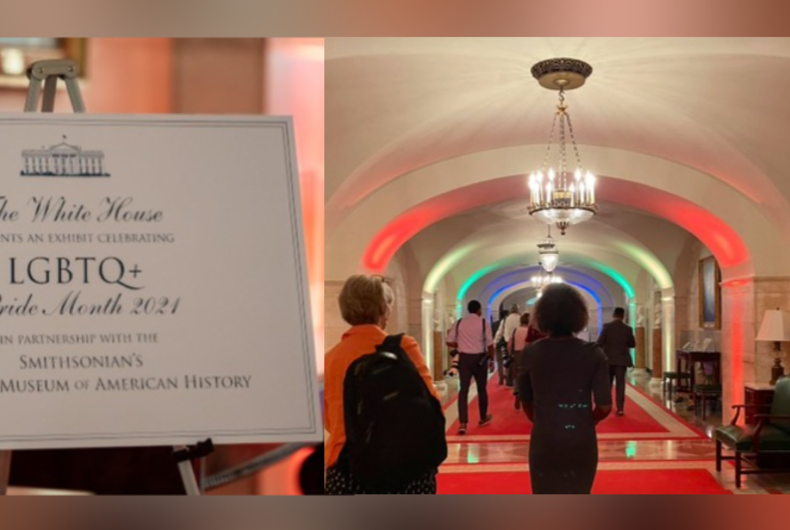 The White House has installed an exhibit dedicated to "celebrating LGBTQ+ Pride Month 2021" on the Ground Floor Corridor.
The exhibit is the first physical display of historical items dedicated to the LGBTQ community, borrowing from the Smithsonian Institution and in partnership with the Smithsonian's National Museum on American History.
According to the Advocate, the exhibit features descriptions of, and artifacts from, historic LGBTQ community figures such as Harvey Milk, Marsha P. Johnson, and more.
Another figure highlighted in the exhibit is Rose Cleveland, who was the sister of the 23rd and 25th President, Grover Cleveland.
"Rose Cleveland, President Grover Cleveland's sister, served in the role of White House hostess until his marriage in 1886," the exhibit reads.
"For almost 30 years, Rose Cleveland maintained a romantic relationship with Evangeline Marrs Simpson Whipple. The women lived together in Italy from 1910, until Rose's death from the Spanish flu in 1918."
The exhibit notes that Rose and Evangeline rest "side by side" in Italy today. Correspondence between them was published in 2019 by the Whipple Collection from the Minnesota Historical Society, where they are housed today.
There's artifacts describing major events in LGBTQ history such as the Stonewall Rebellion and the beginning of the AIDS epidemic.
Photos shared online show the corridor illuminated in Pride colors, the first known time in history, the Advocate reports.
The exhibit is curated from the LGBT Pride exhibits currently at the Smithsonian's American History Museum. One is the "Illegal to be You: Gay History Beyond Stonewall"exhibition on display at the museum since 2019, and planned to close on July 6, 2021.
LGBTQ activist, columnist and Philadelphia Gay News founder Mark Segal reported that upon visiting the National Museum this week, personal artifacts of his "from that first Pride in 1970, which we called Christopher Street Liberation Day March" were among those included in a series of items shared with the White House.
The items included a flyer given out over 50 years ago promoting the march and Segal's marshal badge worn that day.
"That 18 year old boy at Stonewall never expected that not only would he be asked to dance with his husband at the White House, but that one of his personal artifacts would be on display there," Segal wrote.
"52 years ago that was inconceivable to me. Now, it's a joyous reality."

lgbtqnation
Tags: lgbtq