Meet the women from history that you probably thought were straight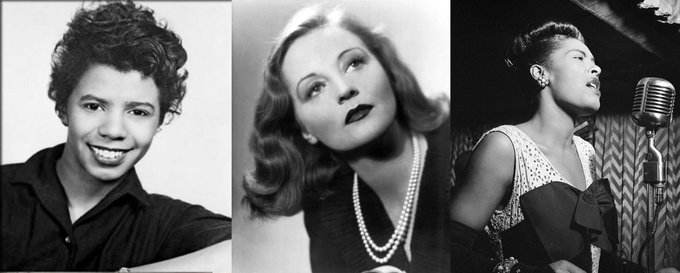 Lorraine Hansberry, Tallulah Bankhead, and Billie Holiday



"Perpetually chaste." "Boston marriage." "Very good friends."

When researching women's history, any of the above keywords should serve as alarm bells: it essentially means this lady was gay.

I'm part of a team that produces a daily women's history podcast called Encyclopedia Womannica, and this month we are highlighting notable queer women. And although I've always been interested in queer studies and the queer ladies of history, it wasn't until I came into contact with these stories every day that I realized how often womens' queerness has been relegated to the margins of their own stories.

More often than not, a woman's sexuality has been written down through the eyes of male contemporaries, or researchers so far down the line, that they can't imagine the nuances of her everyday fears and passions. Allow this article to serve as your gentle reminder that, by the late 19th century, folks were still worried bicycles would awaken a woman's sexual desire… and they still encouraged women to cohabitate in "romantic friendships" to avoid (hetero)sexual behavior.

Part of researching more womens' history in a week than I did in my entire K-12 career means I've gained a lot of appreciation for a rare occurrence: a woman's story told in its entirety. Her ups, her downs, her trailblazing, and the conflicted, jagged edges of her legacy. All too often, her sexuality is pushed out of the picture, whether by the constraints of the closet in her own lifetime, or the discerning eye of reviewers trying to uphold a particular view of her legacy.

Here are four women you should see as their full selves– history makers who were, more likely than not, queer. (And all subjects of Encyclopedia Wommanica!)
Billie Holiday
The famed jazz singer was made famous both in her lifetime and beyond through her incredible talent and complicated personal life. While multiple renditions of her life story, including the Diana Ross-led 1972 Lady Sings the Blues, centered her sexuality through her turbulent affairs with men, Billie's bisexuality fell by the wayside.
She also had a similarly bumpy relationship with women. And while, by most accounts, Billie wasn't shy about bringing her relationships with women into the limelight, her own autobiography is missing one of her most important– and most widely publicized– relationships: Tallulah Bankhead. According to historian John Szwed, her co-writer was forced to tamp down on certain relationships, Tallulah included, by the threat of legal action.
Tallulah Bankhead
The second entry on this list is by no means a historical wallflower, but you'd think someone who referred to themselves as "ambisextrous" might be more well-known as a queer icon.
Tallulah had tumultuous relationships in her life – to other people, to drugs and alcohol, to her deeply conservative, uber-rich Alabama political family – and her love affairs with many women were no different. Her associated acts include Greta Garbo, Marlene Dietrich, Hattie McDaniel, Alla Nazimova, Mercedes de Acosta, and, of course, Billie Holiday (just to name a few).
Lorraine Hansberry
The award-winning playwright made history in countless ways– but she also wrote under the name "Emily Jones." That's the name you'll find if you pick up an old copy of The Ladder, magazine for the Daughters of Bilitis, the first lesbian civil and political rights organization in the US.
Lorraine lived her entire life in the closet, but her legacy is decidedly queer. According to Making Gay History, she used the earnings from A Raisin in the Sun to buy an apartment in the East Village where she lived with Dorothy Secules – a "close friend."
Emily Dickinson
Perhaps one of the best examples of queer erasure. Dickinson has often been titled a "lonely spinster" by historians, and literature scholars have for years debated who "The Master" was in her private diaries. But maybe, all along, the person we were looking for was named "Susan."
Recent scholarship has unearthed Emily's lifelong relationship with Susan Gilbert, a childhood friend turned sister-in-law, who Emily wrote about profusely. But when it came time to publish, her posthumous editor blurred out references to Susan's name – literally erasing Emily's queerness from her own writings.

lgbtqnation
Tags: Billie Holiday