Candy Ferocity to Return This Week (Episode 3) on FX's 'Pose'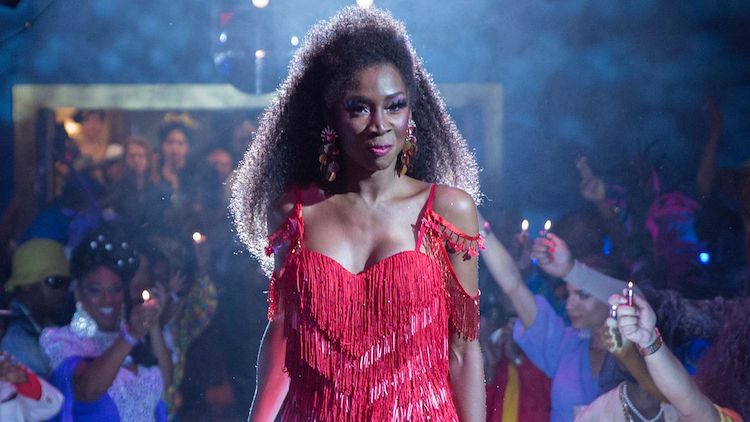 That dreaded trunk is coming back.
Ahead of the third and final season of Pose premiering, series co-creator Steven Canals teased that fans would be getting introduced to the backstory of one Elektra Evangelista. The ballroom icon has carried the House of Evangelista on her back for two seasons now, even leaving at one point to start the House of Wintour, but we didn't find out much about how she became the woman she is. A new teaser clip from episode three alludes to looking into her relationship with her biological mother.
In the footage we see a younger Elektra — she's ageless so the only way we can assume is by the disco wig and clothes that are less refined than we know her to wear today — seemingly working the streets before sneaking back into her childhood home.
"I prayed every day that you were a boy," we hear in a voiceover, presumably from her mother. In the clip, Elektra is physically pushed out of the home.
In other footage, we see the trunk from season two has come back to haunt the house. Blanca Evangelista speaks to the reality of having to do certain things to survive. For those who remember, in season two Elektra accidentally killed a client from the Hellfire Club. Instead of report the accidental death to the police, given that they are all Black trans women with the system stacked against them, the group stuffed the body in a trunk. This was lightly based on the mummified corpse found in the closet of Paris Is Burning's Dorian Corey. But now, that trunk is returning.


In the teaser, Blanca and Lil Papi go into Elektra's apartment to find the trunk while we see Elektra behind bars. According to a captioni of the teaser: "After she is unjustly arrested, Elektra convinces Blanca to aid in disposing of the trunk in her closet before law enforcement finds it."
But the trunk isn't the only thing: Candy Ferocity is coming back too. The teaser also promises to show scenes from the House of Abundance before it all came tumbling down. We watch them at dinner, with Elektra presiding at the head as the protector, and provider, they had come to depend on.

The next episode of Pose will be on ferotips on Monday 10th of May

Out
Tags: Pose