Brighton Pride 2021 cancelled for second year over virus 'uncertainty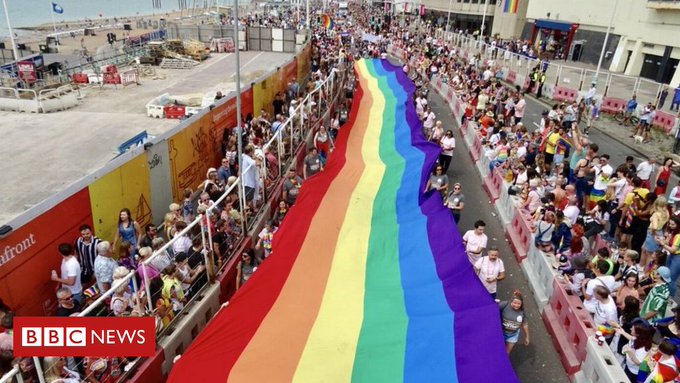 Brighton Pride has announced this year's event is cancelled due to uncertainty over Covid-19.
It is the second year in a row that the event has been axed, and August's festival was to see Mariah Carey headline the 30th anniversary celebrations.
That decision has now been reversed due to concerns over safety.
Organisers said they "cannot risk the health and safety" of visitors, residents, staff and volunteers.


Paul Kemp, director of Brighton Pride, said while the vaccine rollout continues to be successful, it was proving "impossible to deliver a safe event with any certainty".
He added: "We are devastated at having to make this decision and recognise the huge impact on local businesses, charities and community groups who rely on the fundraising potential of the Pride weekend.
"We can't wait to bring Pride back in 2022 better than ever."
Around 250,000 people traditionally visit Brighton during Pride weekend.
The weekend-long festival includes a community parade and village party.
Previous headliners include Kylie Minogue and Britney Spears.
Nick Hibberd, Brighton & Hove City Council's head of economy, environment and culture, said he was "sorry" to see "very important" community events, which promote equality and inclusion not going ahead.
However, he said he "fully supported" the decision, because "keeping everyone safe and Covid rates low remains our priority".
There will be smaller pop-up cultural events throughout the summer which can run within Covid-safe guidelines, as well as online events, organisers said.

BBC
Tags: pride,