Teen tells Ellen a teacher thought being trans was a "disease" & "contagious" in school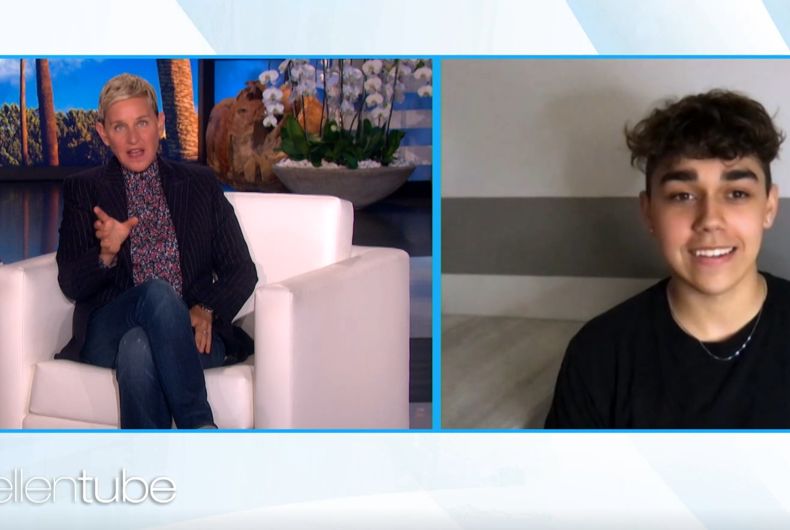 ay, a transgender teenager featured in the HBO documentary Transhood, stopped by The Ellen DeGeneres Show to talk about being a visible trans person and why he was considered contagious by a teacher and classmates in middle school.
Transhood, directed by Sharon Liese, was filmed over five years and follows four different children who came out as trans, including Jay, who is featured in the documentary from the age of 12 until he turned 18.
Related: Ellen blew straight people away with a giant list of all the gay cartoon characters
The film, which first aired in November, has joined a growing list of documentaries that accurately display the journey of being openly queer or trans at a young age.
Jay was supposed to appear on Ellen's show after the documentary first came out, but the show briefly shut down when Ellen contracted COVID-19.
"When I was five, I told my mom while fighting her trying to put boys clothes on, that I was a boy stuck in a girl's body," Jay said. "Later on in years, after research, at the age of 12… that is when I started my full transition."
"My mom always told me when I was little, 'Express who you are and you'll be the happiest in life and you'll go the furthest in life.' If your parents support you, [then] it's a matter of let your child be who they are."
"That's the best case scenario," Ellen said. "You want a parent who just wants you to be happy, but a lot of parents want their children to be who they want them to be."
"I think it's really hard for parents to realize that they are not you. They are not extensions of you, they're their own person."
Talking more about growing up, Jay shared that it was "very challenging" to grow up trans in the Kansas City area because "everyone was just so against it, and said it was wrong, and a lot of people thought it was a disease."
"A lot of times in high school or middle school, when I would use a pencil, no one would use it after me," Jay shared.
"In middle school, I was secluded enough to a desk all by myself, away from every single kid, because my teacher thought that it was a disease and contagious to others, and parents had concerns because I was transgender."
"Wow," Ellen sighed. "I don't even know how you got through something like that as a kid. It's hard as an adult to be ostracized like that, and to feel different as an adult. But as a kid, that's a really tough thing."
"That's why visibility is so important to people," she added.

lgbtqnation
Tags: Trans