Queer as Folk Reboot Is a Go, Will Take Place in the South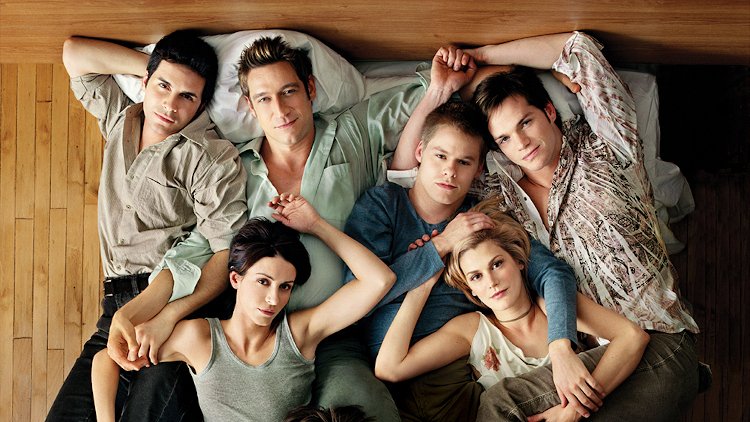 Groundbreaking gay television show Queer as Folk is coming back to TV in a brand new way.
Peacock, the streaming service from NBC and its sister channels, has given creator Stephen Dunn (Little America) a straight-to-series eight-episode order for a new take on Queer as Folk. The new version of the classic show will "explore a diverse group of friends in New Orleans whose lives are transformed in the aftermath of a tragedy."
The orginal British series was created by Russell T. Davies and starred Aidan Gillen, Craig Kelly, and Charlie Hunnam as three gay men living in Manchester, England in the late 1990s.
That was followed by a Showtime series, set in the American Rust Belt city of Pittsburgh, that lasted for five seasons, from 2000 to 2005. It starred Gale Harold, Randy Harrison, Peter Paige, Hal Sparks and Sharon Gless. It was one of the first American TV shows to focus on the lives of gay men; actresses Michelle Clunie and Thea Gill also portrayed a lesbian couple that's part of the men's circle.
"It is a surreal honor to adapt the notoriously groundbreaking series by Russell T. Davies," Dunn said in a press release. "When the show originally aired, the idea of unapologetic queer stories on TV was so provocative that I felt I could only watch Queer as Folk in secret. But so much has changed in the last 20 years and how wonderful would it be if the next generation didn't have to watch Queer as Folk alone in their dank basements with the sound muted, but with their family and friends and the volume cranked all the way to the max ..."
Dunn recently won a GLAAD Media Special Recogniton Award for the episode "The Son" from Little America, which is an anthology series on Apple TV+. Lee Eisenberg, who worked with Dunn on that episode, will executive produce Queer as Folk, alongside Davies, his producing partner Nicola Shindler, Emily Brecht, and Richard Halliwell. The show was initially envisioned as a scripted show for Bravo, the channel known for the Real Housewives series, but ended up at Peacock.
As the series is set in New Orleans, we are all hoping to see more people of color, and specifically, Black queer men, on this iteration of Queer as Folk. Including trans and more female characters (and their sex scenes!) wouldn't hurt either. But most of all, we're excited to see queer actors play roles where they can be proudly out and get the focus their stories deserve.

Advocate
Tags: Queer