Meet the trans folk who built the Tenacious Unicorn Ranch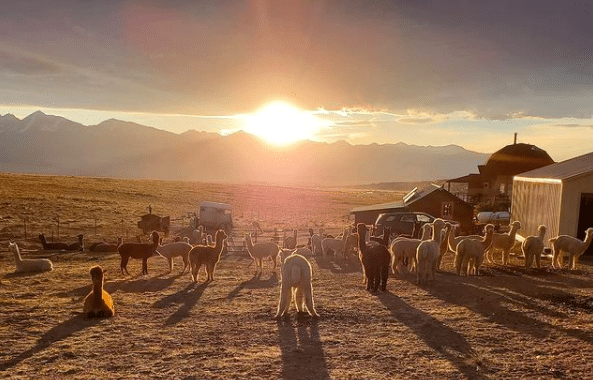 The desperate need for safe housing has led a group of trans people to form the Tenacious Unicorn Ranch, a community of armed, anti-fascist alpaca farmers in rural Colorado.
Fearful for her safety and the safety of other trans people after Donald Trump's election in 2016, Penny Logue sought refuge at a rented ranch in Northern Colorado.
Recalling her original idea, Logue told the Socialist Rifle Association Podcast: "We were just living our lives, and then the election happened [in 2016] and Trump got into office.
"We really saw the writing on the wall with the way that rhetoric was changing so quickly, how nasty the ramp-up to the election was, how damaging it was for queer people specifically.


"We didn't really think it was going to get any better, so we tried to start coming up with ways to not only save ourselves, but bring that kind of safety net to other queer people as well."
She and two partners moved to the ranch, and adopted a herd of alpaca. They began sustaining themselves through donations and selling alpaca wool, and soon wanted to have more like-minded trans people join their community.
She said she had the idea "with the intent of giving trans people a safe place to not only just survive, but actually thrive and do something in the world, and feel good about ourselves as trans people negotiating the world".
"As opposed to just fearfully living in a cis world," she added. "We're living in our own world here."
They needed a property they could own, and eventually came across a geodesic dome in Wet Mountain Valley, Southern Colorado, which they bought.
Logue told
HighCountryNews
: "Domes are funky and cool and a bit against the status quo — and they help the planet. They are weird but useful, which is the essence of
queer
."
Tenacious Unicorn Ranch was officially founded in 2018.
Since then, the ranch has attracted members of the trans community for both permanent and short stays.
"We're a haven. We offer work, we offer shelter, we offer peace," said Logue.
"There are a lot of people who visit for upwards of a week and just enjoy their time away from society.


"And cry. When that ranch gate shuts behind you, the cis world stays out there."
In the Wet Mountain Valley, however, the group lives in close proximity to neighbours with far-right views, some of whom haven't been willing to let them live in peace.
"There are militias in the Wet Mountain Valley," said Logue said. "They've showed up armed and threatening… Moving here demanded gun ownership."
She explained: "It isn't through harsh words and violence that you defeat fascism.
"It's through building community, but only if you can stay alive long enough to do it. That means you have to be armed – because fascists are armed, always."

pinknews
Tags: Trans