Spectacular 33-metre-long vulva sculpture appears in Brazil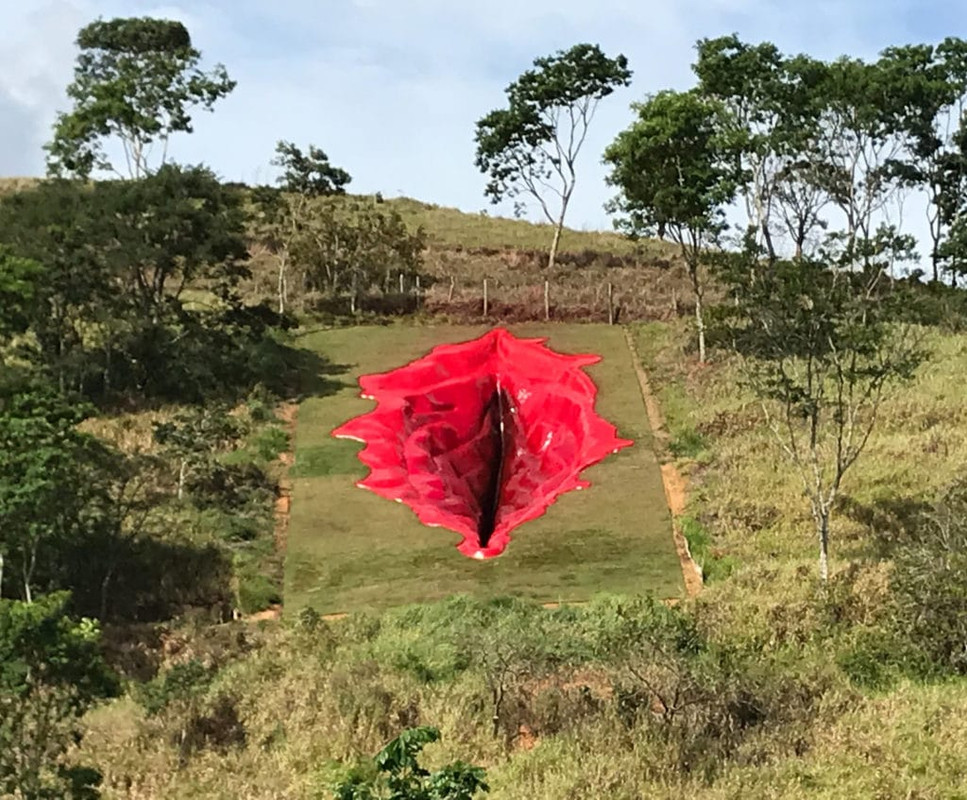 A 33-metre reinforced concrete vulva has been installed on a hillside in Brazil, causing huge upset among supporters of the country's anti-LGBT+ president Jair Bolsonaro.

"Diva" is a sculpture created by artist Juliana Notari, who said the work was meant to "question the relationship between nature and culture in our phallocentric and anthropocentric western society" and provoke debate over the "problematisation of gender".

The bright red vulva sculpture, which is also 16 metres wide and six metres deep, took 20 men 11 months to built by hand on a hillside in the state of Pernambuco, Brazil.

In an apparent nod to Bolsonaro's presidency, Notari wrote on Facebook: "Currently these issues have become increasingly urgent.



"After all, it is by changing perspective of our relationship between humans that will allow us to live longer on this planet and in a less unequal and catastrophic society."
"Diva" by Juliana Notari. (Facebook/ Juliana Notari)
But the artwork soon ruffled the feathers of conservative Bolsonaro supporters, and Notari began receiving a massive amount of abuse on her Facebook post.
One commenter wrote: "Who do you lefties think you're fooling? Apart from useful idiots on the left, of course."
Another Bolsonaro supporter, who seemed the think the sculpture was in Argentina, added on Twitter: "IT IS SCARY HOW THE ARGENTINE CAPITAL HAS BECOME AFTER THEY LEGALISED FEMINISM IN THE COUNTRY!
"WE CANNOT LET THE SAME HAPPEN HERE! ABSURD!"

But others defended Notari's work, including Pernambuco director Kleber Mendonça Filho, who said that the right-wing reaction to the piece in "full Bolsonaro years" was "a mirror, a success".


Bolsonaro is a self-described "proud homophobe", who often singles out LGBT+ people in Brazil for the kind of vitriol once directed by populists towards migrants in the last decade.
In 2019, Brazil was found to be the deadliest country for trans people, with some tallies suggesting that a trans person dies almost every day in a nation of 200 million.

pinknews