Moscow metro hires women drivers after rule changes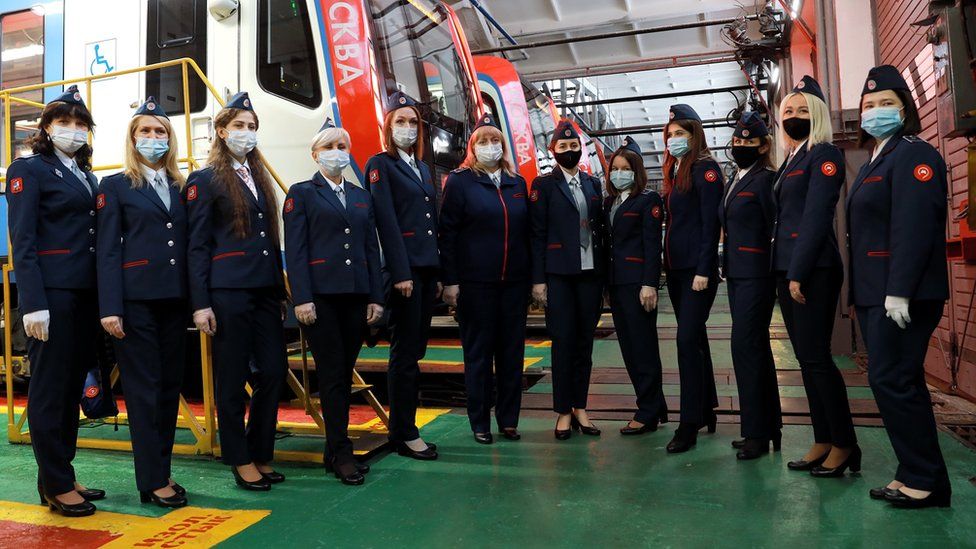 Twelve women joined Moscow's underground network as train drivers this month



Moscow's metro says it has hired its first female train drivers since controversial rules banning women from certain jobs were lifted last year.

The city's transport department welcomed "the [Moscow metro's] first female electric train drivers" on Sunday, likening it to a new era.

Twelve women joined the network in the Russian capital on 1 January 2021.

Moscow's metro stopped hiring women drivers in the early 1980s. The last female driver left the service in 2014.

The profession had been added to a list of jobs considered too physically demanding or dangerous for women to undertake.

However, it was removed from this list - along with jobs including lorry drivers and boat skippers - after much of the physical aspects of the role became automated.

In a joint statement on Sunday, the mayor of Moscow, Sergei Sobyanin, and the city's transport department said 12 of 25 women joining the network had completed their training, received permits and were ready to "take the first passengers".

Female drivers have the option of choosing the uniform they feel most comfortable in, depending on "what is more convenient for them to drive the train - in a skirt or in trousers", the statement added.
A reason to celebrate New Year - Russia's biggest holiday
By Olga Ivshina, Senior correspondent, BBC Russian
There was a palpable sense of excitement as a dozen female train drivers started work with the Moscow metro this month.
It comes after doubts were raised over the reasons behind the profession appearing on a list of 356 jobs said to be too dangerous for women.
One of the regulations says that women are prohibited from doing jobs in which they are required to lift more than 10kg at least two times every hour.
Russian women's rights NGOs have pointed out that this is "the average weight of a one-year-old child - and lifting them by the mother is not restricted by the state in any way".
In recent years, Russian women have appealed to the courts to cancel or change the restricted jobs list. This year, the list has finally been amended and now comprises of just 96 jobs - most of which require direct work with dangerous chemicals or explosives.
One of the new drivers, Marina Muntyan, said she was "not afraid of working with the machinery".
Another, Irina Dolgikh, said she decided to apply for the position after being employed as an underground station master. "It is my personal development, personal growth. Also, this will be my childhood dream coming true," she told Russian TV.
The Moscow metro authorities stressed that many of the newly-trained drivers had come from families where many generations had worked on the underground network.
The first group of applicants was chosen early last year. Only women between the ages of 22 and 43 who were already working as underground staff - ticket salespersons, cleaners, station masters and managers - were eligible to apply.
Women were initially able to apply to drive metro trains in Moscow between 1936 and the early 1980s.
Moscow metro said it plans to hire more female drivers next year.

bbc
Tags: Real Women