What does Heather Peace do at Christmas?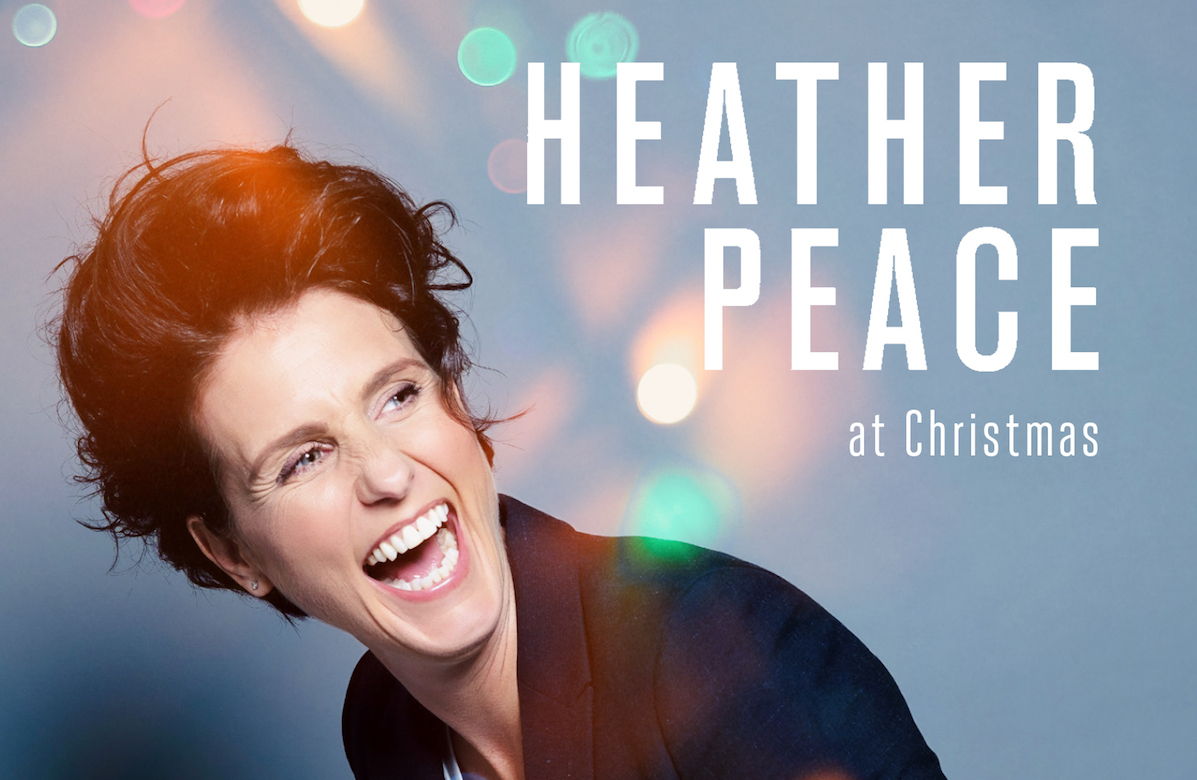 What better way to get into the Christmas spirit than a live performance from your favourite legendary lesbian singer-songwriter? Sadly, we can't physically be together for this festive gig, but it's set to be a sparkling evening full of Christmas joy.
After the successful covers album, Who Knew, created by Heather Peace in lockdown at home with her three children, she's back again with an album full of our festive faves.
You can join Heather to celebrate the album's release this Sunday (13 December 7.30pm) for an evening of fun and interaction whilst she performs live, all the tracks from her new Christmas album, other favourites and maybe, a surprise cover or two!
Heather is acutely aware of the difficulties many people are facing at this current time and wants everybody to have the opportunity to get lost in the music and join in the fun.
This event is a "Pay What You Can" so that those that are facing tough times do not miss out and those that are not, can help others.
Read our exclusive catch-up with Heather Peace before Sunday's gig, all about lockdown life and what's coming in 2021, below!



DIVA: What have been your 2020 highs and lows?
HEATHER PEACE: The initial shock of my entire working year being whipped out from underneath me was pretty scary. I had a tour booked in in April and dates for events over the Summer and then the third HearHer Festival (all female lineup music festival) which I am artistic director of, all cancelled. It's always good to do more than one thing within the entertainment industry, but literally, all three jobs, gone! That was the low point. I did panic.
The high point was having the kids and Ellie at home for that three months, even if it was tough at times to keep the kids entertained. Beautiful weather, nature walks and makeshift playgrounds in the trees in the woods. My three girls bonded too. I think that lockdown has created a very special bond between the twins who are now three and Annie who is five.
How important has music been to you this year?
It's kept me sane. It's been my escape from the mayhem of having three lively kids in a house when I literally can't go to the loo without them following me. Being able to work in our little attic room and now my studio was a relief. It gave me time for adult connection, albeit virtually, with my band. When I started the first lockdown covers record Who Knew I didn't really know how it was going to turn out. I was thrilled with the final results. I'd invested in a really decent studio mic, and watched numerous videos on how to capture the best vocal. I'm normally in a studio with a producer and engineer and only have to concentrate on my vocal. This year has made me hone so many new skills; things I'm not by any means perfect at yet. But I've come an incredibly long way. The Christmas recording is the first record I've ever had the title Producer on. So that's quite something!
Have you missed playing live shows?
YES. YES. YES. There won't be a musician in the world who doesn't feel that way. The connection with an audience at a live gig is what I live for. You write the music. Record the music. Promote the music. But the real gem is getting out there and performing the music and seeing the reaction. Meeting people after the show and chatting with them is really special. Then there's the buzz of hanging out as a band/production unit after the shows and being on the road together. I'm lucky to have such an awesome, fun band and we have proper laughs and banter when we're away together. I miss that too.


How have you stayed digitally connected with your fans this year?
It took me a few months to work out how to stream a gig online that was multi-cam and had high quality sound, but with a good friend of mine we worked it out. Within these gigs there's interaction via twitter where I can mention birthdays or shout outs or answer questions.
The stream is via YouTube and the audience can also message each other on the app whilst at the gig. It's been quite a lovely thing and a way for us all to stay connected. At the time of writing this I have audience from 27 countries coming on Sunday! How amazing is that? Even Russia, Japan and India. These are people who've never been able to come to a UK gig too so that's really special. I'll continue to do these gigs when the pandemic is over.
How did you manage life at home as a mum alongside recording?
It was pretty tough at times. I'm officially the singing housewife/stay at home Mum this year. Ellie is a teacher and her work load is through the roof. Planning lessons for school, as well as filming them at home for those kids isolating. She's in charge of lots of other important stuff too so I very much have to fit in with what needs doing there. I've worked many evenings and it's certainly much easier now that Jessie & Lola (JLo) are at nursery three days a week and Annie is at school. Thankfully, I love my work so it feels like my own precious time too. The kids play together well too so that means as long as they're near me I can sit down at my piano and practise or arrange songs whilst also keeping my eye on them!
What does Heather Peace do at Christmas (pardon the pun) – do you have any exciting plans?
No exciting plans. Does anyone this year? We will just be a five, here at home. I'm not even going to make the whole Xmas dinner but buy it as a shove in the oven affair. With no-one coming this year it would be a waste of my time when I could be playing with the kids. They don't care about a sophisticated roast! They'd probably just eat the potatoes and pudding anyway! I will do a treasure hunt for them and we will wait for Santa coming round in his light up sleigh (does this happen everywhere in the country?) and have a glass of mulled wine with the neighbours over the garden walls. We live in a fantastic community area in Brighton and it's the neighbours that have kept us sane. Those cuppas over the wall or a bit of a joke and a laugh on the WhatsApp group has been invaluable for my head!


What are your hopes and goals for 2021?
I'm just going to chug along and see what the year brings. I have found a way through now releasing cover recordings until we can gig again live. I've also started a new album and have three completed tracks so far. The sound is a departure from my previous work and I'm super excited about it. It's still got hooks and is super catchy but much more contemporary. I'm working with my friend and producer Charlotte Ridley, writing and recording remotely together and it's a real joy. She's super clever at creating the production side of the tracks and making them sound so fresh.
Other than that there are a couple of filming gigs in the pipeline and a horror film that I played a part in by director Howard Ford comes out in March next year too. Recorded during lockdown and called The Lockdown Hauntings, Howard was literally a one man crew and the level he has achieved with that as the set up is astounding. We swapped skills and his return favour to me will be filming and directing my next music video, which is super exciting.
What can we expect from your gig on Sunday?
A fun, festive, live and interactive experience from the comfort of your couch! Great sound and multi-cam visuals. It's a pay what you can affair too. I've found this has balanced out so well; those with a bit more have often given a bit more but for many whose work has fallen away this year, it means they can still come too.
I'm joined (in a socially distanced way) by Michael Clancy on guitar, Jack Stevens on bass and Amy Bone on Backing vocals. Plus I have a special guest artist, Katey Brooks. If you're wrapping presents or putting up your tree or simply sitting with a glass of wine, come along.

Divamag
Tags: Heather Peace