Arlo Parks announces debut album alongside a dreamy new track
The hotly anticipated debut, Collapsed In Sunbeams, will be released early next year


It really is the year of Arlo Parks – she's pretty much unstoppable at this point and we still can't get enough. Just yesterday, the rising star released her brand new single Green Eyes, alongside news of her highly anticipated debut album, Collapsed In Sunbeams, due for release on 29 January 2021 on Transgressive Records.
Green Eyes, with backing vocals and guitar from fellow queer artist Clairo, is an end to the summer tune; an intimate listen that showcases Arlo's trademark breathy vocals atop soft melodies and woozy keyboards.
It's a song that celebrates queer love as she expresses well wishes toward a female ex-lover who was too uncomfortable to show public affection when they were in a relationship.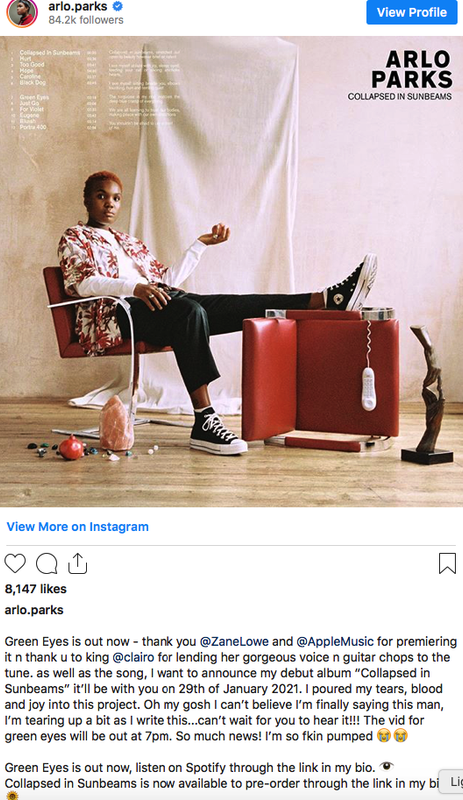 Couldn't hold my hand in public / Felt their eyes judging our love," she sings in the chorus. She explained to them.that this particular feeling of embarrassment is "something that I've seen in myself and also something I've seen in others."
She added, "This is a song about self-discovery, self-acceptance and adolescence. It is supposed to uplift and comfort those going through hard times".
Speaking about her debut LP, Arlo says "My album is a series of vignettes and intimate portraits surrounding my adolescence and the people that shaped it. It is rooted in storytelling and nostalgia – I want it to feel both universal and hyper specific."
Well, if it's anything like the huge hits Arlo has released so far in 2020, we're in for a great start to 2021 with Collapsed In Sunbeams.
Listen to the new track from Arlo Parks below. You can pre-order the debut album here.

Divamag
Tags: lesbian artist