Sharon Stone on Ratched, Basic Instinct as Primer for Tackling Issues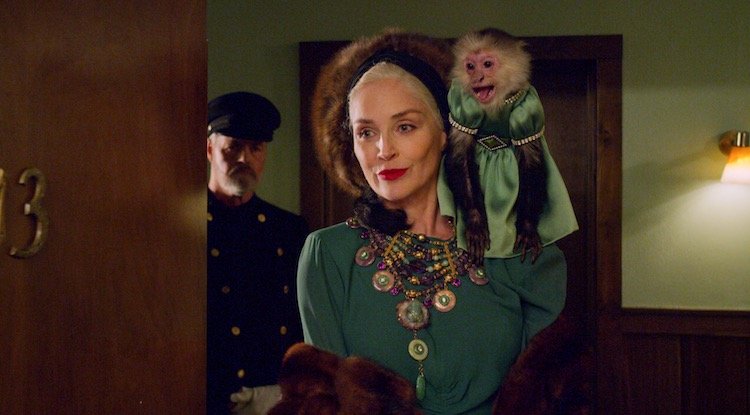 Ratched, Netflix's origin story for the sadistic Nurse Ratched that stars Sarah Paulson in the title role, features Sharon Stone as Lenore Osgood, an eccentric socialite with a literal monkey on her back and a thirst for revenge. The series from Ryan Murphy and Evan Romansky is a pastiche of film styles that is at once horror, Hitchcockian, and melodrama, and all with a heavy dose of camp and queerness tossed into the mix. Despite the fun Ratched has playing with film history and euphemisms for sex acts between women and food, it also examines institutions like the mental health industry and government (in the form of Vincent D'Onofrio's Trumpian Gov. Wilburn).
In an interview with The Advocate, Stone chats about how wrapping issues into a package that is delectable and easily consumed is a way into discussing important topical stories.
An ardent LGBTQ+ ally and a longtime AIDS activist, Stone says her breakout film, the thriller Basic Instinct, was a training ground of sorts for touching on heavy subjects in a glossy package.
"I feel like I got thrown into the deep end of that pool with Basic Instinct during the heat of the AIDS crisis. I learned a lot from that experience — that we can talk about these things through commercial avenues," she says. "Often it's the best way to be able to do it because we open the door through entertainment and we open the door through having fun. And we say that this is something that doesn't apply to everyone because it's something that does apply to all of our families."
"So, now that we get it and we can say it loud, because now we can say it out loud because we've said through fun, then we can really start to address what we need to do," she says.
She hearkens to the central setup for Ratched, an institution in California circa 1947 that applies torturous experimental methods to treat mental illness like extreme heat hydrotherapy and lobotomies to dreamers, lesbians, and those with anxiety.
"We've said out loud, we need to take a closer look at mental illness. Has it changed very much since 1947, or are we still standing in the shadow of shame? And have we not realized, at least now, through HIV and through breast cancer, that being ashamed of ourselves and our bodies is ridiculous?" Stone says. "What we need to do is be proud of our situation. Don't blame ourselves for the things that happened and figure out how to move through them logically and scientifically, because that's who we are."
Without naming anyone in politics directly, Stone also draws a line between Ratched's egomaniacal, womanizing Gov. Wilburn and current leaders.
"Institutionally, we need to stop having these kind of unilateral decisions made for us and start having more rounded logic-based, fact-based, science-based, community-based decisions made about what is more right for the greater number of people," she says. "Not just what's right for the decision-maker."

Watch the interview with Stone below.


advocate
Tags: Sharon Stone,