Belgian coffee ad is a tender coming of age lesbian love story and we're not crying, you're crying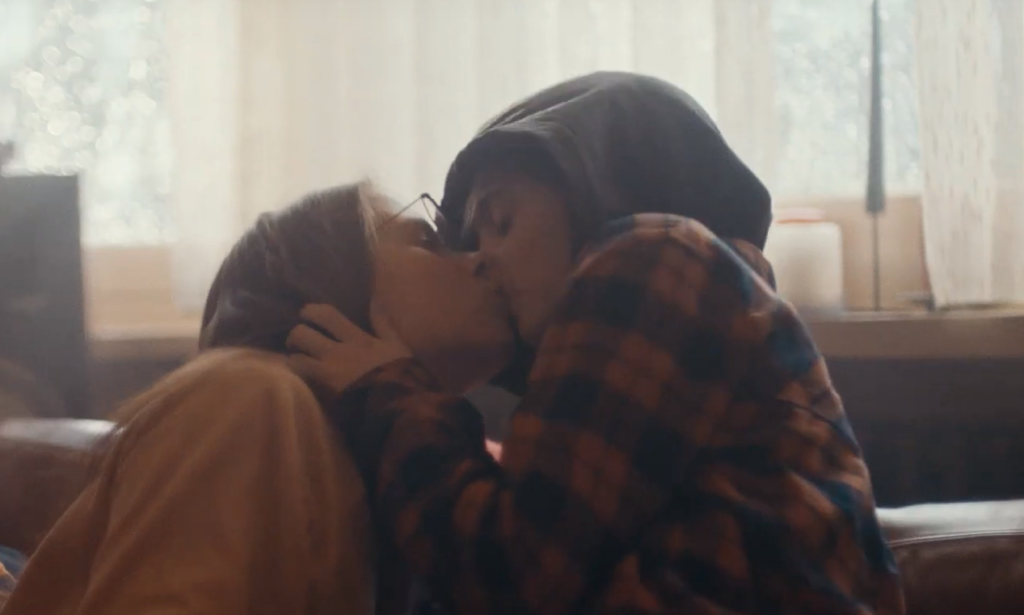 A Belgian coffee ad that manages to tell a beautiful and tender coming of age lesbian love story in just 40 seconds has gone viral on Twitter.
The ad by Dutch coffee company Douwe Egberts is titled 'Something to Share', and has the vast majority of queer Twitter in tears.
It begins with two teenage girls enjoying a make-out session, but as they drop onto the sofa they hear a car pull into the driveway. They jump up and run out of the room just as the father of one of the girls comes through the door.
The father and daughter make eye contact for a moment, before the young couple head upstairs. As they make it to the daughter's room, she receives a text from her dad which just contains coffee emojis.
Assuming she has been caught and is about to be confronted, the girl looks scared. But when they arrive in the kitchen, her father is ready with three cups of Douwe Egberts coffee so they can all get to know each other.
When someone posted the ad on Twitter with the caption "not me crying at this random ad I just got", the number of views shot to 12 million in just five days and LGBT+ Twitter could not hold back the tears.
One person summarised the sentiments of many, writing: "I want to have this coffee now just because this ad embraced my soul so warmly."

The emotion over the lesbian love story extended beyond the online LGBT+ community, and one Twitter user wrote: "I for one am super crying. I'm not even LGBTQI and I would give my right arm to have that dad."


There was some criticism of the ad's content, and for once in our lives it wasn't from homophobes, but rather people who were concerned for the daughter's glasses.
One person wrote: "This is super cute and I stan but like omg don't just put her glasses on the couch like that that's so careless. Glasses are expensive and fragile."
Another concerned Twitter-user said: "This is cute and all, but do not ever throw my glasses behind me like that. I will stop it all to put them on the table."
In November, 2019, car manufacturer Renault released another lesbian love story advert that had Twitter similarly teary, celebrating three decades since the first Renault Clio through the emotional 30-year journey of a lesbian couple.