Halsey, the 'Poet' of Pop Music, Gender Bends Into Bowie and Bob Dylan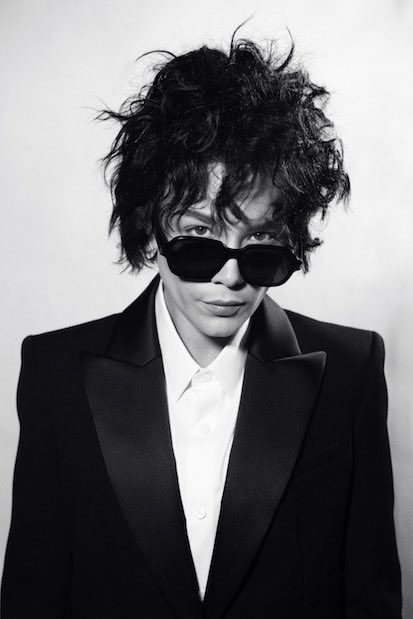 The groundbreaking artist has led the way for bisexual and bipolar visibility. Now, The Advocate's latest cover star channels music legends who inspire her.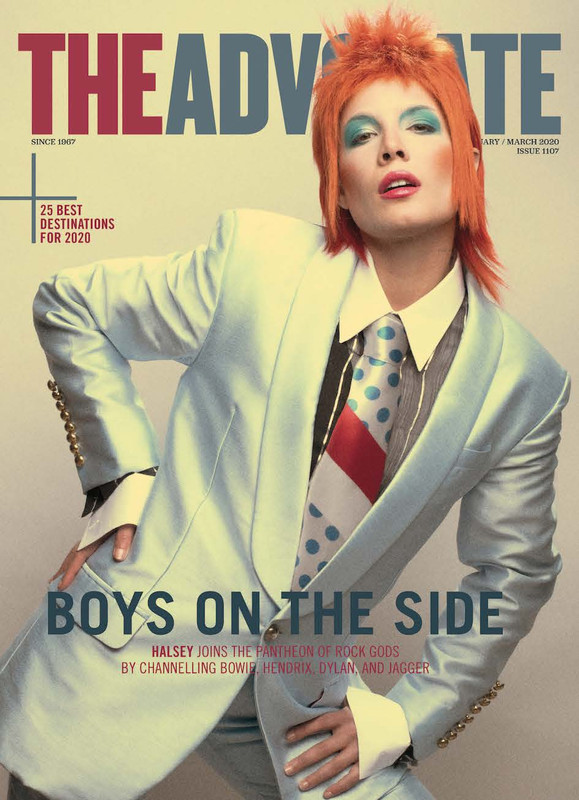 A thumb thoughtfully placed against her upper lip while she cradles a cigarette between her fingers, her jaw jutting forward as if on the verge of unhinging, her hand casually dangling by her crotch as she clutches the neck of a guitar. A modern pop and rock star who's long embraced the fluidity of her gender, Halsey knew exactly what she was doing when she conceptualized a photoshoot to pay homage to a handful of male rock icons who have influenced her style and bearing.
The singer of hits like "Without Me," "Bad at Love," and "Strangers," Halsey grew up listening to the music of Bob Dylan, Mick Jagger, David Bowie, and Jimi Hendrix.
For the project embodying the stars in a cover shoot for The Advocate, Halsey not only meticulously studied their gestures but also their essence. Then she carefully crafted the makeup and look for the male personas she would inhabit. The result is a series that speaks to the influence of those men on popular culture while encapsulating Halsey's commitment to detail and fearlessness in excavating the facets of her identity.
Halsey was in the middle of placing the finishing touches on her third album, Manic, winning an American Music Award for Favorite Song Rock/Pop for "Without Me," and touching down in Australia, Japan, Boston, Washington, D.C., and Los Angeles for various gigs and appearances when in late 2019 she took a day off for the shoot in which she would realize her dream of being photographed as these rock gods. But there were at least 10 more she would have liked to take on, she says. Channeling these legends is indicative of her assured and evolving gender expression.
"I'll be sitting in the dressing room, holding up pictures of Mick Jagger, and thinking to myself, God, how do I make myself look like I have boyishly handsome cheeks?" Halsey says.
"I don't really see females dressing in real drag very often in editorial print. This is something I want to do," she explains. "As a performer, I have looked up to or looked into those men—looking for a form of identity building for so long. It never really occurred to me that I shouldn't."
"Dylan was the reason that I picked up a guitar," she says of choosing him for the shoot. "I felt, as a 16-year-old, I was equal parts Taylor Swift and equal parts Bob Dylan, which was a complete mindfuck. [Dylan] is a poet who has a way of expressing his emotion in a way that makes people feel something. I still don't really consider myself a very good singer. I'm a poet. And me being a singer is a symptom of me being a writer."
In conversation, Halsey is self-possessed and open. She also has no room for bullshit. She's matter-of-fact about her meteoric rise to fame and the good and bad that accompanied it. She's also thoughtful about how her identity resonates with the zeitgeist and what her role as a public figure means, especially to her LGBTQ fans who look up to her.
Aspects of Halsey's identity have been scrutinized ad nauseam in the news and on social media since her first album, Badlands, took off five years ago. She's biracial, bipolar, and bisexual, all of which have throughout the years become fodder for an anxious media looking to craft the next viral story.
"I really wanted to share my experience, and it was difficult because I don't think it was so easily archivable," Halsey says of being out at the start of career only to see her identity exploited. "It was a lot of 'Are you white or are you Black?' and 'Are you a lesbian or are you straight?'"
"I'm bi," she would answer to the hackneyed question so often lobbed at bisexual people.
"It was almost like people wanted proof [of her identities]. They wanted to see me have a mental breakdown to prove I have bipolar disorder," she says. "I felt myself wanting to give in to that [to prove myself]. It became difficult to establish what was performative because I felt like I had a responsibility to defend and to represent."
Like the male rock stars she grew up listening to and admiring, Halsey exudes a range of androgynous sexuality and panache that's rarely seen in music. She can rock big boots and a shaved head as seamlessly as she does a vintage Hollywood coiffure and red lips reminiscent of, say, Ava Gardner—like when she and Lady Antebellum performed a mash-up of "Graveyard" and their song "What If I Never Get Over You" at the Country Music Awards in 2019.
As a queer girl from New Jersey who kicked around New York City and toured in an overcrowded van in her late teens before fairly suddenly finding herself playing Madison Square Garden, the notion of performativity, whether in her music or in her self-expression (often both at once), is woven into Halsey's DNA.
"I've always really identified with being an androgynous performer," she says.
Certainly, she nails Jagger's blend of cockiness and femininity in her photo with uncanny accuracy. In part, that's thanks to the musician's own femme side.
"To this day, it blows my mind how unabashedly feminine [Jagger] was and still is," Halsey says. "If you look at Jagger and Bowie and Prince and even Elvis, it's just crazy to me how backward we've gone. The issue of toxic masculinity affects everyone. The idea that men can't express themselves in a feminine way, it's hurting everyone. It's crazy that we've managed to go backward in that way. Because the bro-iest bro dudes of all time were the biggest Freddie Mercury fans."
It's not surprising that Halsey extrapolates her love of Jagger, Bowie, and others into spot-on social commentary about the state of masculinity. She's outspoken about issues that move her. One of her passion projects is working with My Friend's Place in Los Angeles, an organization that helps homeless youth (many of whom are LGBTQ).
A lover of literature and killer music from a young age, Halsey credits her parents for her artistic taste. She discusses her dad when explaining why she chose Hendrix as one of the men for the shoot.
"Jimi was a really important figure in my life growing up. My dad's Black and my dad loves rock music. As the face of rock music has changed over the course of the past couple of decades, there have been periods of time where rock-and-roll or punk rock or emo rock or whatever it is—areas of subcultures that haven't been necessarily all-inclusive to people of color," she says, adding that Hendrix is an unlikely hero and one of the most important figures in music history.
"He kind of embraced this docile rock star energy," she says.
As for her mom's influence, Halsey developed a love of some of music's most iconic women, including Patti Smith, Alanis Morrisette, and Ani DiFranco, from the songs her mother played. Her mom also kept poetry books and novels around the house that depicted a breadth of sexual and gender identity, which Halsey says helped her learn about embracing sexuality. When she came out, she had her mom's support.
Halsey recognizes that it's not a universal experience to come out to a parent with nary a blip of backlash. She encounters plenty of fans at meet-and-greets on tour that turn to her for coming out advice.
"I don't have the agency just to give every individual fan advice, because I'm not a professional. I'm just a musician who's bi," she says. "The only coming out experience I've ever had is my own. But if I can help them feel like I'm a valid and supportive representation of them, and if that makes them feel safe and that makes them feel included, then, of course, I'm going to do everything in my power to contribute to that."
Still, while coming out to her supportive parent went smoothly, Halsey faced a backlash at school for her self-expression.
"I remember the first time I cut off all my hair and I was wearing men's clothes—having people in my high school just be so fucking awful," she says. "This explosion that happened in the past five years where we have the opportunity to really educate people on gender and sexuality-based terminology—that hadn't happened yet. And if it had, it certainly wasn't affecting this small town in New Jersey."
Despite intolerance at her high school, Halsey still forged her sexual identity in her teens, which she says has been affirming, especially for someone continually tasked with declaring her identity.
"When I had my first intimate experience with a girl, I was 15 or 16," she says. "And it was about the same time that I started experimenting sexually with men as well. Which I think is, again, a deeper added benefit for me in terms of my own self-validity—knowing these experiences have coincided since the dawn of my sexual awareness."
Halsey is a easy conversationalist and covers a lot of ground in a short amount of time, from early sexual experiences to her writing process to how Patti Smith's memoir, Just Kids—about her life in New York with artist Robert Mapplethorpe—"jumped off the page" at her in terms of relatability. And with so much discussion about gender expression and fluidity, Halsey eventually addresses the evolution of hers head-on.
"I don't identify as nonbinary or gender-fluid. I don't personally feel like I'm at the point in my life where I'm prepared to identify that way," she says. "Will that change? Possibly. I don't know. But I've never felt any reason to change the way that I refer to my gender identity."
"My gender identity has always been super, super fluid. And I didn't live in a place that was very forgiving of that," she adds, hearkening back to her experiences in high school.
It's not the norm for the subject of a cover shoot to show up with a radical idea to execute, like dressing as four different rock stars. But concepts are what Halsey does with verve, as evidenced by her albums that have all followed a narrative through-line. And Manic, which came out January 17, tells a fully realized story just like Badlands (2015) and Hopeless Fountain Kingdom(2017) did. Badlands, she says, is the "post-apocalyptic story of a girl who is rebelling against the nature of the society that she lived in."
For Hopeless Fountain Kingdom, she reached into timeless narratives like Shakespeare's Romeo and Juliet and the Orpheus myth.
"[I thought] I want to write an album about how when we experience heartbreak at that [deep] level, it feels almost paranormal," Halsey says of the concept for her second album. "Something as simple as an argument with your partner—you can hyperbolize that in your head to this gunfight, bloodshed, war between two houses."
But Manic was different for the trailblazer when she settled in to create it. She dealt with some writer's block and grasped to find the concept for the album named for "mania," which she has experienced.
"I did the same thing I always do when I make an album, which is I named it before I started writing it because it helps me put it together," she explains. "And I was like, 'What's the concept?' The concept is just me."
The decision to make an autobiographical album came after a point in her career when she'd faced scrutiny about her identity.
After 2017's "Strangers" (with Lauren Jauregui, who is also bisexual)—in which both women sing to female love interests—Halsey was accused of "queer-baiting." (Previous artists who've flirted with Sapphic imagery, like Nicki Minaj and Jesse J, have soured fans a bit.)
It's still rare to hear a chart-topping song about love or heartbreak in which a woman sings about another woman. Yet, there they were: two bisexual women singing about their heartache with women. But that representation alone wasn't enough for those who criticized Halsey for choosing to set the video in a boxing ring and not in the bedroom.
"Do I want to make a music video that I think is indicative of female-female love? Of course, I do. But do I want to do it because people are expecting some kind of soft-core pornography, something that they can fetishize for themselves?" Halsey comments on some negative feedback she received because she and Jauregui didn't make out in the video. "Instead, I have [us] beat the shit out of each other because I was trying to show that power struggle, that painful intensity of a relationship. People were pissed."
By the time Halsey set out to create Manic, which includes the award-winning "Without You" and the more recently released "Graveyard" and "Clementine," she'd been burned a few times.
"How do I intelligently make a record that I feel is autobiographical and gives parts of me away and talks about them?" she says of Manic. "I was scared. I was like, this hasn't worked out positively for me in terms of being honest, but I feel like I have the responsibility to do so right now."
Halsey says at the beginning of her career, "I was willing to spill my guts to anybody who would listen. But nobody fucking cared because I didn't have an audience. So, I was spilling my guts to the void."
"By the time people started to care and started to pay attention and wanted to know more about me, I think I had become so jaded by the process that I didn't really want to give anything away anymore," she adds, noting that her gig as host and musical guest on Saturday Night Live in February 2019 was a turning point in the public's awareness of her.
Another reason for Halsey's sudden barrier to finding an easy concept for Manic was that she realized she'd shed some of her anger.
"I've been so angry for so long, and here I have the chance to sit down and write about being angry, and all of a sudden I didn't feel angry anymore. I was like, 'Fuck.'" Halsey says. "I'm content now? Really? Fuck."
"I'm sitting down trying to write all these angsty, angry, volatile lyrics and for weeks I can't write, which is super unlike me," she says. "My perception of my manic self became kind of gentler. It was forgiving. And it was nostalgic. It was appreciative. It had a sense of humor. It was self-aware of its own unreliability and unpredictability."
One can't help but hear Halsey's reason for paying homage to Bowie as Ziggy Stardust and understand that the same could be said of her one day.
"I admire the confidence of any person who can really put themselves out there in a way that is so unconventional, and in a way that is so unsafe."

Advocate
Tags: Halsey