'The L Word' Is Back With Sex, Glamour and a Wider Lens
A decade after the pioneering original ended, "The L Word: Generation Q" includes a group of new young cast members from across the L.G.B.T.Q. spectrum. Can the series still break ground in 2019?



"Why aren't there any lesbian bars in L.A.?" the actress Jennifer Beals asked recently, perched in the center of a tufted sofa in her office. It was a good question — the kind her passionate, Ivy-educated character Bette on "The L Word" might ask, half in despair, half in hopes of rousing debate.

Steps away, Los Angeles's newest lesbian hangout, a chic gastro pub, served cocktails and sliders under Edison lighting. The cocktails, however, were fake, the bar merely a set.

Beals's co-star Katherine Moennig shrugged. "They all shut down," she said leaning on the plush sofa arm. In the years since "The L Word" had ended, The Palms, in West Hollywood, had closed in 2013. The Oxwood Inn, the city's last lesbian bar, closed in 2017.

"Did you know I worked at Cubbyhole in, like, 1989 as a coat check girl?" Leisha Hailey, who plays Alice, chimed in, referring to one of New York City's few remaining lesbian bars. "The originalCubbyhole, the Henrietta Hudson location. That's how old I am."

"I like it, Leisha," said Moennig, her foot twitching, sneakers unlaced — just the way her character Shane's would be. "And now they'll be watching you on a TV screen."

Even if the bar isn't real, it wouldn't be the first way in which Showtime's "The L Word" put a fantastical sheen on lesbian life in Los Angeles. But that was always kind of the point. During its six-season run from 2004-2009, the series found success in part by adding generous (some said unrealistic) helpings of sex and glamour to its already groundbreaking concept: TV's first ensemble cast of lesbian and bisexual characters, presented in a way that felt fun — more aspirational than angsty.

It's a quality the makers of the reboot, "The L Word: Generation Q," which debuts Dec. 8, hope to recapture, updated for a culture and a TV landscape that have changed seismically since 2009. The sex and glamour remain. So do Beals, Hailey and Moennig. But joining them is a group of younger, more fluid, more diverse cast members (the "Q" stands for queer) who grew up with "The L Word" but in many ways grew beyond it.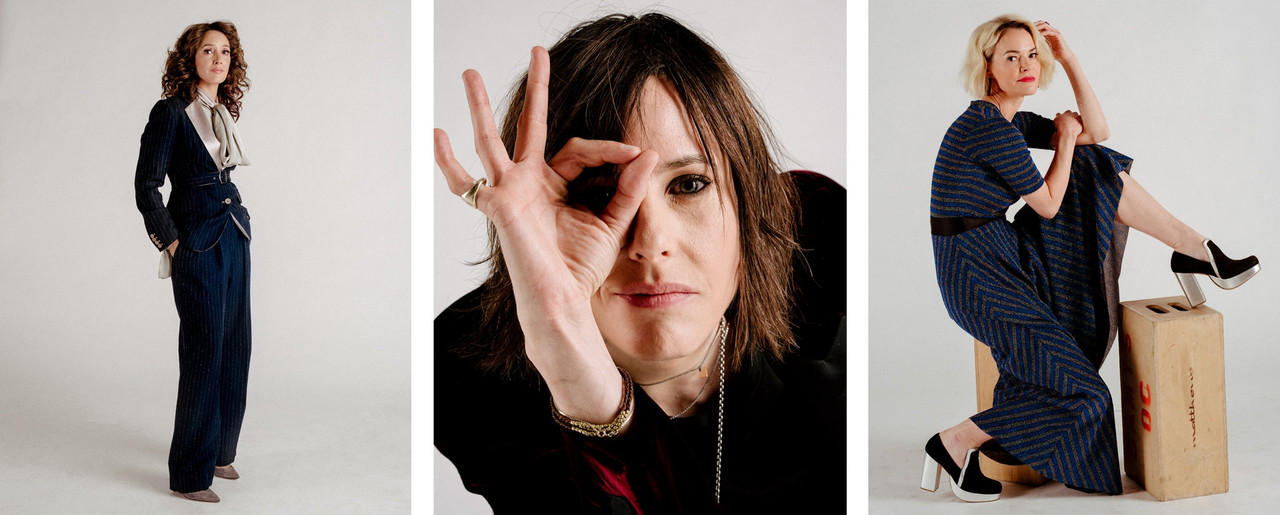 The "L Word" cast members Jennifer Beals, left, Katherine Moennig, center, and Leisha Hailey have returned for "Generation Q."
In 2009, gay marriage was still banned in California. In 2019, people state their personal pronouns in email signatures and Twitter bios. The ground has shifted, and at a time marked by gender-neutral bathrooms and historic highs of L.G.B.T.Q. representation on TV, the questions arise: Can "The L Word" still speak to the current moment? Can it still break ground?
Marja-Lewis Ryan, the showrunner for "Generation Q," argued that the younger generation still needed characters to look up to and identify with — perhaps more than ever given the lack of dedicated spaces for gay and bisexual women.
"One of the things that 'The L Word' was originally, that I maintained, was aspirational," said Ryan, who was a teenager when she first saw the original.
"That's the joy of the show," she added. "We're riding that line between glam and reality. You should be able to see and feel moments that feel real, with just a little bit of magic."
A Different Time
When "The L Word" debuted in January 2004, the series signaled a fundamental shift in lesbian representation. The clique of intelligent, attractive, wealthy and — perhaps most important — happy women countered tired stereotypes of the angry or suffering lesbian. The women openly dated, loved and broke up with other women. They cheated, had casual sex. They lived in immaculate homes, wore trendy outfits, led companies and maintained meaningful friendships. And they didn't apologize.


"'The L Word' allowed for the portrayal of different, individuated experiences within a queer community, rather than freighting one or two token characters with the burden of representation," said Candace Moore, a professor of gender studies and media at Carleton College. "Both the pleasures and the problems of 'The L Word' — that hot mess we came to serially crave and critically tear to shreds as it aired — came from the possibilities engendered by an ensemble cast show that not only represented lesbian community but constructed and affected it as well."
The series aired in an era when gender-neutral pronouns were still years from arriving on American television. Groundbreaking episodes explored scenarios that were relatable, thrilling and humorous for a long-neglected audience. In one episode, the women headed to Shane's lavish destination wedding in Canada, where same-sex marriage was legal. In another, a celebrity tennis player who comes out as gay is offered a Subaru sponsorship.
Jacqueline Toboni, who on the reboot plays a 20-something butch lesbian named Sarah Finley (she goes by Finley), admitted to oozing admiration during her early days on set.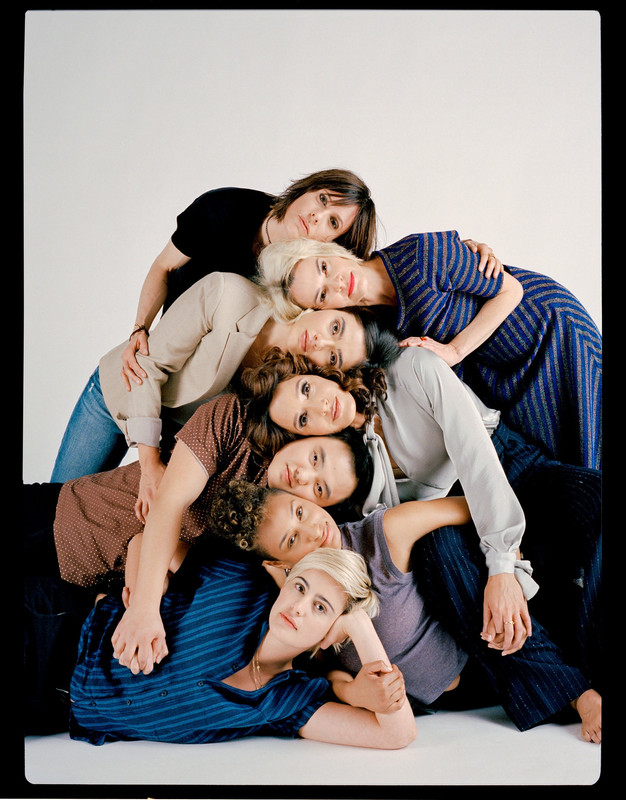 "Reading each script is like reading fan fiction," she said, curled up in an armchair on the set of Alice's office. "In my wildest dreams, I would have never pictured seeing these characters again, and then getting a sneak preview and being a part of it."
Not every aspect of the original series landed (or has aged) as well as others. The New York Times's Ginia Bellafante called the series"a Sapphic Playboy fantasia" that "has shown little interest in variegating portrayals of gay experience." In her academic work, Moore has criticized the show for avoiding butch characters and tokenizing Hispanic ones, and for misguided portrayals of transgender issues.
Arienne Mandi, who plays Dani, a young Chilean-Iranian public relations manager, pointed to older episodes as a snapshot of how much things had changed.
"There are so many things that wouldn't really fly in a show nowadays," she said. But she recognized how important the original series was to advancing the conversation. "I still can't get over the fact that we've had to fight this hard to just be exactly who we want to be," she said.
For all it accomplished, nothing like "The L Word" ever came along to replace "The L Word." There was progress: According to a recent report by the GLAAD Media Institute, 33 percent of all L.G.B.T.Q. regular and recurring characters, a group historically dominated by gay men, are lesbians in the 2019-2020 season, an eight point increase over last year. And L.G.B.T.Q. representation overall reached a high this season — 10.2 percent of all series regulars.
But despite that progress and the success of shows centering lesbian and bisexual women, like "Vida" and "Batwoman," an ensemble drama like "The L Word" never surfaced in America. (A similar show appeared in Britain, "Lip Service," but it was short lived.) "Orange Is the New Black," with its deep explorations of female lives and same-sex relationships, perhaps came closest. But for most viewers, a women's prison drama isn't quite so relatable.
Ilene Chaiken, who was a creator of the original series and is an executive producer on the reboot, said she was surprised that the gap had remained unfilled all this time.
"I expected that when 'The L Word' went off the air, that the torch would be passed," she said. "I was surprised and dismayed not to see it happen."
Hailey, who like Beals and Moennig is also an executive producer for the reboot, voiced similar dismay that the show had turned out to be a pioneer with no true followers.
"There's a giant void," she said. "We're so sick of seeing a straight show with a gay character. In this show, everyone's queer in some sense. That makes it stand out, just for that fact."
Expanding the Vocabulary
In the decade since fans said goodbye, the returning "L Word" characters have become even more glamorous. Bette is campaigning to be the first lesbian mayor of Los Angeles. Alice has moved from self-produced video blogs to hosting a daytime talk show. And Shane is a self-made millionaire, living in a mansion that seems mostly empty save the prominently placed Hästens mattress.


They also moved from West Hollywood to Silver Lake, where their lives overlap professionally and geographically with the those of the newcomers: Dani's P.R. work prompts a tense run-in with Bette's campaign; Sophie (Rosanny Zayas), a Dominican-American transplant from New York, works on Alice's show; Finley latches onto Shane after building some furniture in her new home; and Micah (Leo Sheng), a transgender Chinese man, is the roommate of Dani and Sophie.
As observed during filming in October, cast members refer to one another on and off set as "newbies" and "O.G.s," a distinction between the new and returning faces. In a scene set on election night, two characters played by O.G.s were swiping through a dating app, looking for prospects.
Dani strolled by, peering over at one potentially convincing profile. In what was either a brilliant improvisation or a surprise rewrite, she offered some unsolicited feedback: "Oh her? I dated her."
Ryan and the rest of the crew watching the monitors doubled over laughing. It was a situation any now or formerly single lesbian knows all too well. It's a very small dating pool.
For the "Generation Q" team, contributing seemed to straddle work and fandom. A writers' assistant on set gushed that "The L Word" had made her want to enter show business. The costume designer Deirdra Elizabeth Govan knew the returning characters' personal styles by heart and had no trouble developing cohesive looks for them 10 years later: Gone is Shane's leather halter vest, replaced with an Yves Saint Laurent blazer; Bette's look has gotten more posh, replete with Manolo Blahnik and Christian Dior.
Toboni said she had rewatched the first season box set, given to her in high school, repeatedly. "At all times, a queer person I know is rewatching 'The L Word.'" she said. "Because there's not much else."


Given the show's abiding popularity, not least among younger viewers, Chaiken was keen on the idea of rebooting, but she insisted she would know when the time was right. That time was Nov. 8, 2016. Chaiken and Beals chatted by phone as the presidential election results rolled in, both acknowledging the moment had come.
"You knew the demonization was coming," Beals said. "You knew the desire to separate people and to be divisive was coming. It just seemed natural to stay and tell these stories again because, really, storytelling is so much a part of who we are and how we change things."
Showtime approved the reboot quickly — two days, as Chaiken recalled.
"The anticipation for this show is palpable," said Gary Levine, Showtime's president of entertainment. "It's the show I've gotten asked about more than anything else we've ever done. It was great to say, 'Yes, we're doing it.'"
Locked in an exclusive contract with another studio, Chaiken searched for a "new, young, talented lesbian" to re-envision it. Ryan, 34, a former colleague, was her top choice.
Ryan, too, had grown up with the show, bingeing on DVDs covertly rented from a Blockbuster near her N.Y.U. dorm.
"It really had not occurred to me until then that I could write stories about my own experience," Ryan said. "That's the point of making this thing: getting people to talk and voice their experiences and express themselves. That's why the show needs to exist."
Adding more relatable queer characters to television was central to her mission, Ryan said. A diverse writers' room helped shape the new characters, as did input from the new cast members.


"I hope people are screaming at the TV, like, 'Oh my God, she's Dominican!'" said Zayas, who plays Sophie and said she had never seen another L.G.B.T.Q. Dominican on television.
For Sheng, who plays Micah, his role was partly a chance to "tell another version of trans experience" than the one offered by the original series. The portrayal in the original of Max (played by Daniela Sea), though groundbreaking — he was the only regular TV character identifying as transgender at the time — has been criticized for linking the experience of being transgender to shame.
Sheng described his first time watching Max as challenging, coming at a time when other thoughtful representations of transgender men were basically nonexistent. He recounted a scene in which Max informs a woman he is dating that he is transgender. She storms out, leaving Max humiliated. It was frightening.
"At that point I hadn't really conceptualized what it meant to be a trans man," Sheng said. "Looking back on it, that's really hard to think about."
For the "The L Word" to stay relevant in 2019, it was always going to have to expand the scope of its storytelling. Series like "Euphoria" and the Emmy-winning "Pose" have brought positive queer and transgender characters into the mainstream in recent years, changing the terms of the conversations around inclusiveness. Sheng believes the new reboot has expanded the show's vocabulary accordingly.
"We're doing it a little different this time," Sheng said. "With 'Generation Q,' queerness looks so different for everybody."

nyt
Tags: The L Word, The L Word:Generation Q