Does 'The L Word' Appeal to Queer Audiences Today?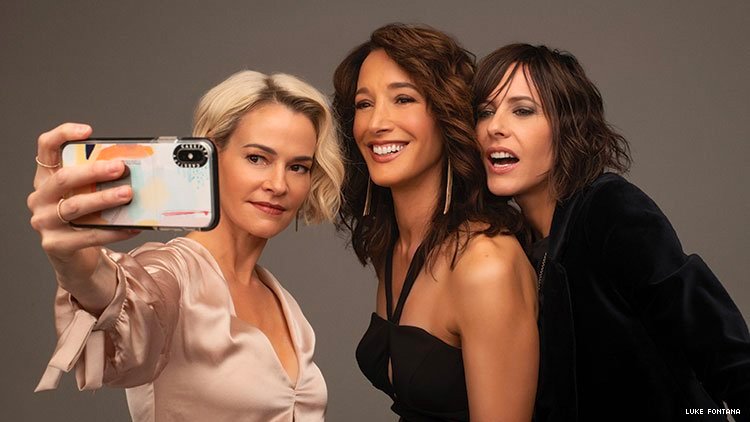 Even before The L Word premiered in January 2004, the Showtime series had amassed a devoted community of women-loving women hungry to see their lives portrayed. The buzz around the show focusing on a group of glamorous Los Angeles-based lesbian friends was palpable, and spurred groups of women (and their friends) to gather in homes and bars around the country for viewing parties where they collectively entered the world built by its creator, Ilene Chaiken.
Eager audiences tuned in to the pilot with opening images that included the Hollywood sign, Sunset Boulevard, and a kinetic freeway interchange informing its setting. Then, the camera moved from the public to the private: Bette and Tina asleep in the morning light, a half-tossed-off sheet revealing their bare skin that signaled an intimacy between women that had yet to be depicted on television.
In this quiet but radical moment, The L Word altered television forever. Lesbians had stepped into the light, no longer relegated to ancillary characters or the brunt of the joke. The cast of characters who gathered at the show's fictional watering hole The Planet were smart, funny women with sexual agency who pushed the needle forward and effectively changed long-held perceptions about lesbians.
Fast-forward 15 years and Jennifer Beals (Bette), Leisha Hailey (Alice), and Kate Moennig (Shane) have just completed a photo shoot on a warm October day in an unassuming old recording studio in Hollywood. It's two months out from the release date of The L Word: Generation Q, the highly anticipated reboot of the series they executive-produced along with Chaiken. The enthusiasm about working together again and exploring their characters in 2019 is infectious.
"I'm excited for people to see the three of us back together. I can't help but think that it translates in the scenes," Beals says.
There are scant plot details about Generation Q, and Beals, Hailey, and Moennig don't give much away that's not already apparent in the trailer. Beyond the basics — that Bette is running for mayor of Los Angeles, Alice is the host of a popular TV talk show, and Shane has returned on a private plane from somewhere else, the plot is under lock and key. But the cast promises there will be plenty of Easter eggs for fans of the original series.
Chaiken, or "mama bear" as Hailey calls her, is now an executive producer on Empire and The Handmaid's Tale as well as on Generation Q. But she's handed The L Word's baton over to showrunner Marja-Lewis Ryan, a playwright and filmmaker known for the queer-themed The Four-Faced Liar. Ryan says she feels the weight of The L Word's legacy and credits the pioneers of the series with handing queer women a "North Star" of representation.
"They were pivotal for me personally and also for the community. They gave us something to aspire to," Ryan says.
There's been a tectonic shift in the LGBTQ community and in pop culture representation since the show ended in 2009. The L Word, while indisputably groundbreaking, had missteps — especially in terms of its depictions of transgender and bi-plus people.
"When I first met with Ilene, we talked a lot about the things that held up and that didn't hold up when they're scrutinized in retrospect. We were all eager to tell those stories within the 2019 perspective. That means hiring trans actors," Ryan explains, adding that it also means hiring people of varying identities on screen, in the writers room, and as assistants, electricians, and so on.
Among the new denizens of The L Word's universe are Dani (Arienne Mandi), a public relations executive whose girlfriend is Alice's TV producer, Sophie (Rosanny Zayas); Alice's assistant Sarah (Jacqueline Toboni); and their friend Micah, an adjunct professor played by the in-demand trans actor Leo Sheng. Although, typifying younger generations of queer people who widely eschew labels, it's not obvious from the trailer how any of the new characters identify.
"It's important," Moennig reiterates. "We have to represent as many people as we can."
"When you look at the new cast and you look at the writers room, that's the way it should be," Beals adds. "Everybody should have an opportunity to be at the table. Everybody should have an opportunity to tell their story, whether it's in part or parcel."
Like Ryan, the three originals are committed to upholding The L Word legacy that they helped build. They are also mindful of their responsibility to fans whose lives were impacted by the show's mere existence 15 years ago, but recognize the need to tell compelling stories in the ever-expanding queer TV landscape.
"It's a lot of the responsibility we have that's different from what the new showrunner and the new writing staff has," Hailey says. "We want to make sure that we're there to help and support their ideas, but this is very much a vision of someone else, and I think our responsibility falls on the voices of our characters, the voices we know so well, so intimately, and we know them better than anybody."
She adds, "The new writers can write from a point of view of watching it, whereas we come in from the inside."
"We have the first-person knowledge," Moennig says. "There's a legacy that has to be held, and that's a big responsibility."
"You realize that the legacy [of The L Word] is transforming, and it will have a different structure because of a new showrunner, because of a different writers room," Beals acknowledges. "It'll morph into something different, and you can't hold on completely to what it was. The laws of physics do not allow that."
After all, change is a universal constant. "There's a part of us trying to figure out, 'OK, we want to be true to the voice of our character, but we do know it's 10 years later, we are in this different structure,'" Beals adds. "How do we make sure, like Kate was saying, that we're able to blend those two things — "
"Seamlessly," Moennig chimes in, finishing her thought.
"Seamlessly," Beals concurs.
In addition to the introduction of new characters, a major change in the series is that Ryan opted to move the characters' home base from West Hollywood to L.A.'s hipster stronghold Silver Lake (east of Hollywood).
"I was just trying to tell stories that feel real to me, and this is sort of where my personal community is," Ryan says.
Moennig and Hailey are sanguine about their characters' move east, while Beals leans into the backstory she's devised as to why Bette would make that leap.
"That was more one of my hardest things. Like, 'Wait a minute, why is Bette Porter in Silver Lake?' I didn't really see that," Beals explains.
"I wrap my mind around it in that Bette was working at the Department of Cultural Affairs, so it makes it easier for me to get downtown," she adds, revealing a bit about her commitment to her character's authenticity in the process. "I say to myself that [Bette's daughter] Angie's school, the school that we loved, is on the east side. And so this is between those two things, then. OK. Coming back from New York, then I'll buy a place on the east side and see how that is."
Discussion about the location spurs the women to reminisce about their early days on the original set in Vancouver. Generation Q is shot in Los Angeles, and while the women loved the Canadian city where they first met, they agree there's no match for the natural light in Los Angeles.
"Lightning in a bottle" is how Moennig describes the energy during those nascent days.Considering their affinity for each other and the world they created, it's no surprise they considered how best to reprise their stories as early as three years after the series ended.
Also, as Hailey and Beals point out, nothing had come along to replace it.
"We saw that nothing had taken its place. It was one of those classic situations where you think, because of the success of the show, something will quickly replace it. And then that didn't happen," Beals says.
While Grey's Anatomy and teen staples like Glee and Pretty Little Liars featured lesbian and bisexual characters in the interim, there were no communities of queer women on TV at the time the women began considering reviving The L Word.
"We were chewing on the idea, and at the time, I think it was in 2012 when we started having that conversation, reboots weren't happening," Moennig says. "So what was the idea, a movie? But what does that look like?"
"Great shows have [since] come along like Orange Is the New Black [2013]. We're huge fans of that show Transparent [2014]," Hailey says. "But nothing exactly like our show came out. It was very lesbian-centric."
In recent years, stories about various communities of queer people have exploded exponentially on TV shows like Pose, Vida, and the Netflix reboot of Tales of the City.
"The landscape has changed so much on television. There's so much more out there," Hailey says. "Before, it felt like we were the only ones in the game."
"We were the only one in the game," Moennig clarifies.
"Now there's so much great television that we actually have to step up our game and say, 'We have stories to tell too,'" Hailey says.
While Generation Q introduces younger characters into The L Word universe, Hailey, Moennig, and Beals are uniquely poised to usher in stories about queer women in their 40s and 50s, who are virtually invisible on TV.
"This is season one of, hopefully, what's going to be a long run for us," Hailey says. "These new seeds that have been planted, where our characters are starting from 10 years later, it's just the beginning of that journey. This is just the nugget — the nucleus of what's going to come."
She adds, "The other side of the coin is that we're telling more mature women's storylines."
"We're not kids anymore," says Moennig.
"We're not spring chickens," Hailey quips. "When I watch television, those are the characters I love to sink into — the ones that have been through a lot."
In true meta L Word fashion, a line in the trailer for Generation Q nods to the gap between the original series and the reboot.
"That hiatus felt really long. It felt like a decade, right?" Alice says in the trailer.
And it has felt like an especially long 10 years since the original six-season run ended in 2009. To watch the three of them interact with such affinity as if no time has passed at all, it's easy to imagine them as their characters tossing back espresso at The Planet circa 2004.
"They're like a married couple, by the way," Beals says, smiling and pointing to Hailey and Moennig, who finish each other's sentences.
Of course, it's not just TV that's changed. So much has transpired socially and politically since those opening shots of The L Word pilot that led to the now-recognizable iconography of the show like Alice's razor-sharp repartee, Dana's endearing naivete, Bette's power suits, Shane's low-waisted jeans, and more than a few questionable haircuts.
The L Word premiered as George W. Bush was running for a second term as president and fighting hard for a constitutional amendment declaring that marriage is between one man and one woman. The series ended just a few months after Barack Obama took office and there was hope for LGBTQ people in the air.
While The L Word tackled topical issues like censorship through Bette's work at the museum and on a college campus, the show's politics were primarily inherent in the fact that it gave voice to a marginalized group. Similarly, Generation Q is not overtly political, but it dares to shine a light on LGBTQ people in the era of Donald Trump.
"Story always comes first," Beals says of The L Word's ethos around issues.
She recalls telling Chaiken early on during the original run, "If we can save one girl who's in the middle of nowhere, who's growing up without any kind of representation, and help her get access to community, then that's what I want to do. I want to help that one girl."
Beals laughs knowingly as she shares Chaiken's response, "Let's tell a good story first."
"The show [Generation Q] is not message-y at all. As much as there is a drive to make sure that we have diverse voices in the writers room, in the crew, in the cast — there's not a preachiness about it," Beals says. "[The show's politics are] implicit by virtue of having trans characters, by having the diverse cast. It's not, Look at how diverse we are. That story is told through character."
"The world feels like it's on fire at the moment," Moennig says, mere days before parts of L.A. were literally engulfed in flames in the area's latest wildfires.
"So anything we can do, anything media can do, anything that entertainment can do… [to] bring visibility and push people's thoughts forward instead of backward. That's our job, I think."
Tags: The L Word, The L Word:Generation Q