Kristen Stewart Spotted Kissing New Boo, Sorry Stella Maxwell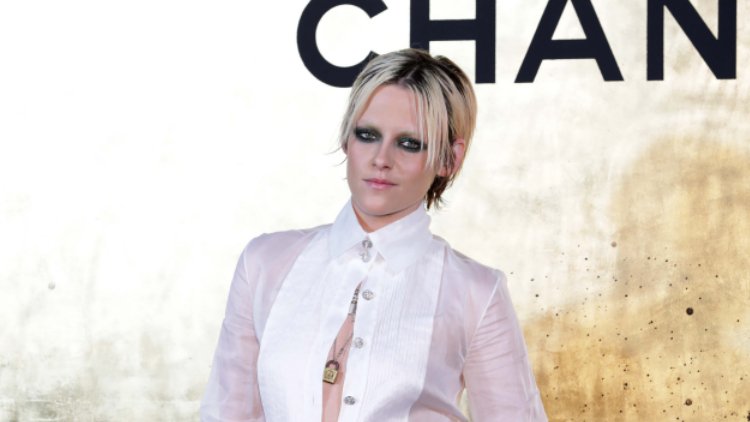 Kristen Stewart, notorious for getting clocked while making out with her trade by the paparazzi, has done it again. Stewart was snapped kissing screenwriter Dylan Meyer in New York City last week, leading fans to believe the actor's romance with Stella Maxwell is done, once and for all.
People reports that Stewart and Meyer, the writer behind Rock Bottom and Netflix EDM movie XOXO, were spotted casually kissing while lounging on a stoop — clearly, they weren't concerned with their PDA getting noticed. According to People, Stewart's reps haven't responded to requests for comment on the photos.
But it was only last month that Stewart was seen kissing her supermodel ex-girlfriend, Stella Maxwell, while vacationing in Italy. The pair had been photographed together several times after their alleged December breakup, but the romantic Italian moment seemed to point toward a reconciliation, but apparently what happens on the Amalfi coast stays on the Amalfi coast.
In December, a source told E! News, "Kristen and Stella are still in touch, but decided it was best to see other people. They started to disagree on things and it stopped being fun. Kristen went to Germany to film [Charlie's Angels], and they realized that the relationship had run its course and they needed a change."
Stewart spoke earlier this year about her decision to come out in 2016, saying she'd owed it to her fans and herself to be honest about her sexuality. "I felt this huge responsibility, like, one that I was really genuinely worried about, if I wasn't able to say one way or the other, then was I sort of like forsaking a side," she told the Associated Press in a May interview.
But just because she picked a side doesn't mean she needs to pick a girlfriend. Can we get Kristen and Miley together next?

Out
Tags: Kristen Stewart,