Namilia: The Fashion Brand Shocking the Patriarchy with Couture Vulvas
With designs that include "Dickini" tops, vulva sleeves, and pro-choice messaging, few brands approach branded feminism as aggressively as Namilia.

As the familiar orchestral rendition of "When You Wish Upon a Star" began to play at Namilia's spring/summer 2018 show in New York last September, I was overcome with the wholesome nostalgia of being 11 years old and seeing the Disney castle in real life for the first time.

But as a regal woman in a velvet and silk ensemble appeared in front of me, I was forced out of my innocent deja-vu: The instrumental was interrupted by increasingly loud clips of a woman's voice shouting, "I can get dick anytime I want! I can get dick anytime I want! I can get dick anytime I want!"

I suddenly realized that the velvet and silk outfits I was staring at were designed to look like detailed vulvas.

It made sense under the circumstances: Namilia's first runway show, "My Pussy My Choice," revolved almost entirely around feminized penis imagery. Vagina dresses are not only par for the course, they're symbolic of Namilia's identity: a fashion brand that uses shock value to present itself as radically feminist. And a successful one at that; after just two years in business, the small brand has been worn by the likes of Rihanna, SZA, and Cardi B.

Since the brand officially launched in 2015, it has shown four collections at New York Fashion Week: "My Pussy My Choice," "You're just a toy," "Join The Resistance," and "The Indiscreet Jewels." Along with mimicking genitalia, their collections are often presented with "runway manifestos" that include goals such as "reversing patriarchal society's concept of female sexualisation and objectification."

When Namilia launched in 2015, its politicized, feminist branding helped set the tone for what was to become of the fashion industry in 2016 and 2017: a hotbed of T-shirts reading "The Future is Female" and "Feminist as Fuck"—a trend that would later be criticized as "commodity feminism."

When the brand's co-founders, Emilia Pfohl and Nan Li, first began conceptualizing Namilia in 2015 as part of Li's final Master's project at the Royal College of Art London, however, they didn't have much competition in the market of explicitly feminist fashion.

Over a Skype call from their studio in Berlin, the German duo recall how they came to create the brand. "We were questioning everything. How do you position yourself and what's unique about you as a designer?" explains Li. "We thought about that and we've always been interested in things like youth culture and girl power, and we felt [like] okay, then our clothes should also portray that message."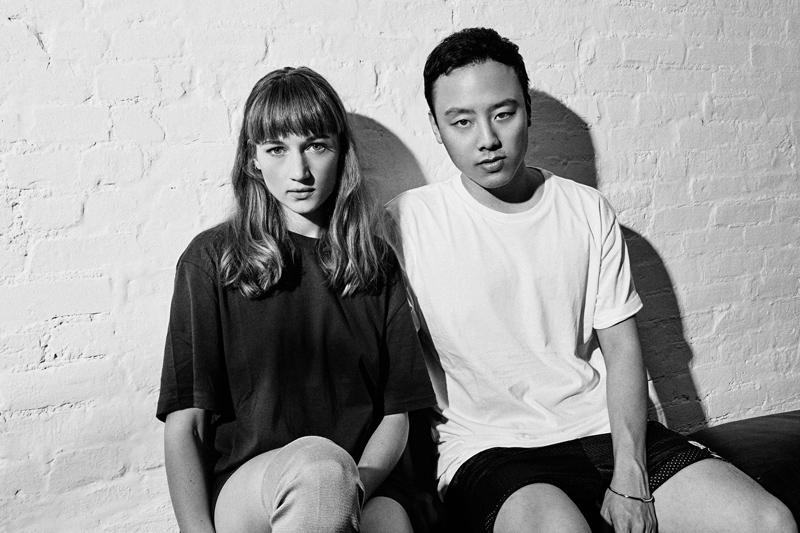 Namilia co-founders Emilia Pfohl (left) and Nan Li (right).

Pfohl explains that, serendipitously, the launch of Namilia coincided with the start of a feminist resurgence—one that would eventually lead to the historic 2016 Women's March and following #MeToo movement—that she first noticed gaining ground on social media. It was the year Trump announced his presidential candidacy, and one year after Beyoncé's viral Video Music Awards performance that included a recording of a talk by feminist author Chimamamanda Ngozi Adichie and the word "FEMINIST" projected on a giant screen behind her.

"It was perfect timing," she says. "That's why we got so much support from everyone." Today the small brand has over 55,000 followers on Instagram.

While the market for feminist fashion has grown beyond Namilia's imagination, Li and Pfohl still don't have much competition, largely because their crude, unabashed designs are made to stand apart. Their "My Pussy My Choice" collection featured bedazzled, metallic, and sparkly penises on nearly every garment. Most notable was their "Dickini" top—Namilia's most recognizable piece to date—a bra in which the testicles serve as a cup and the phallus as straps. The idea behind the phallic imagery in the collection, Li explains, was to take away the penis's perceived masculinity by giving it feminine features like diamonds and glitter.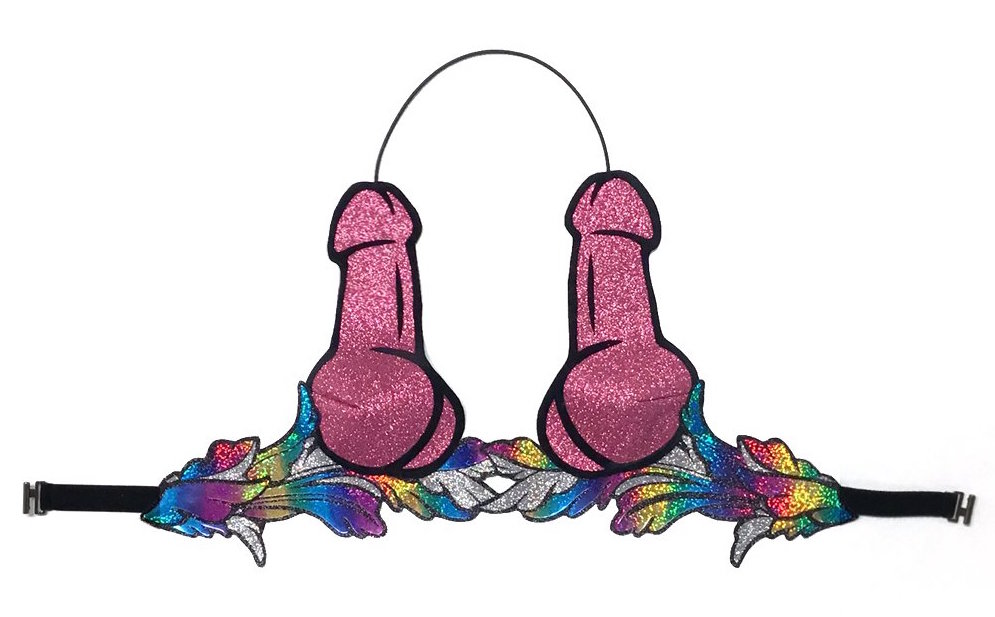 Namilia's "Dickini" top. Image courtesy of Namilia.



Pfohl describes their following collection, "Feel the Heat," which featured phrases like "NUDE AND RUDE" and "Orgasm Clinic" plastered across their clothing, as "the more grown up version" of "My Pussy My Choice."

Li and Pfohl don't deny that they set out to jolt people, but the two say there's more to their designs than shock value. Rather, their work is about prompting their audience to ask themselves why a clothing item has the ability to rattle them so intensely. "When we started with all the penises we were like, why not? What's going to happen if you put a penis on a T-shirt?" explains Li. "Nothing can happen, it still stays a T-shirt, but then people started to freak out about it… It's about making people question Why does it have such a big impact on me? Because at the end of the day, it shouldn't."

For "The Indiscreet Jewels," Namilia's most recent runway collection, Li and Pfohl wanted to highlight the objectification of Asian women, among other issues. "We thought, how are Asian women being fetishized in Western culture?" explains Li. From there, the two decided to incorporate women wrapped in giant tentacles reminiscent of Japanese tentacle erotica, a surprisingly popular porn category.

"We try to over-do it to show that there is something wrong," says Pfohl.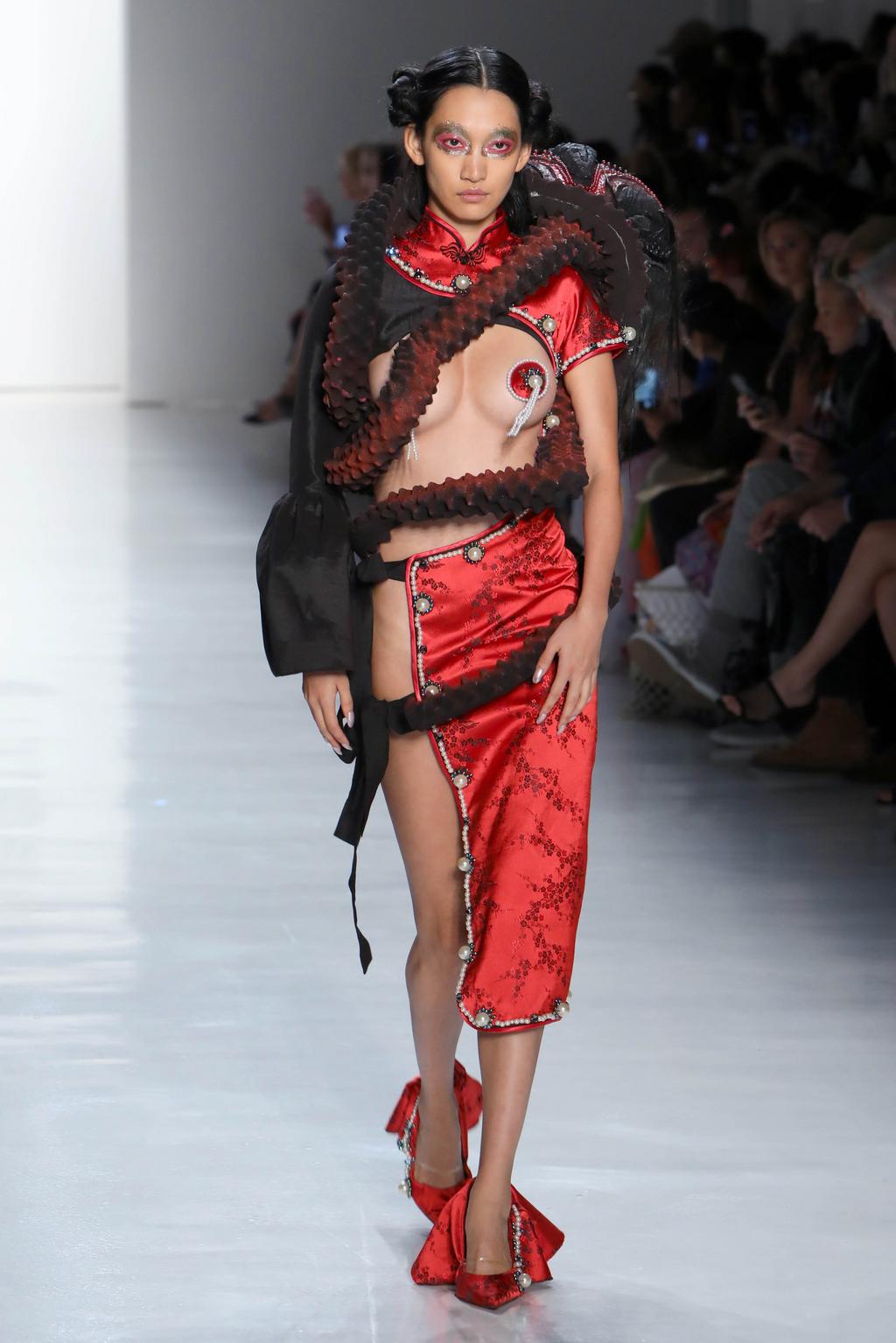 Photo from Namilia's SS18 show, "The Indiscreet Jewels." Image courtesy of Namilia.


For their SS17 collection, "You're just a toy"—which showed just a couple months before the American presidential election—Pfohl and Li created their most salacious work to date, with garments that featured photoshopped patches of Donald Trump engaging in explicit sexual acts, like getting pegged or receiving a golden shower (warning, link is NSFW).

Though they're both from Germany, the duo explain that since they show in New York and around 80 percent of their customers live in the US, they try to stay current with American culture and politics. Li seems more ready to identify Namilia as a political brand than Pfohl. "Politics and sex kind of go together," he says.

"It's definitely more about feminism than politics," Pfohl responds. "[Politics] is part of it, but not all of it."

In terms of branding and aesthetic, though, there's no question that Namilia employs the imagery and language of politics. With campaign names like "My Pussy My Choice," a clear nod to the struggle for reproductive rights, and runway manifestos with calls to "Take down Trump," the brand is like a pastiche of protest signs and news headlines fit into a fashion format.

In the aftermath of the 2016 presidential election, as clothing with feminist messaging permeated even the most mainstream, corporate corners of the fashion industry, the trend sparked a conversation about the morality of "commodity feminism." Brands like Forever21, H&M, and Dior (who in 2016 came out with a $700 T-shirt that read, "We Should All Be Feminists") were accused of duplicitously trying to profit from a feminist campaign while contributing to women's oppression—through exploiting female labor and perpetuating distorted body ideals.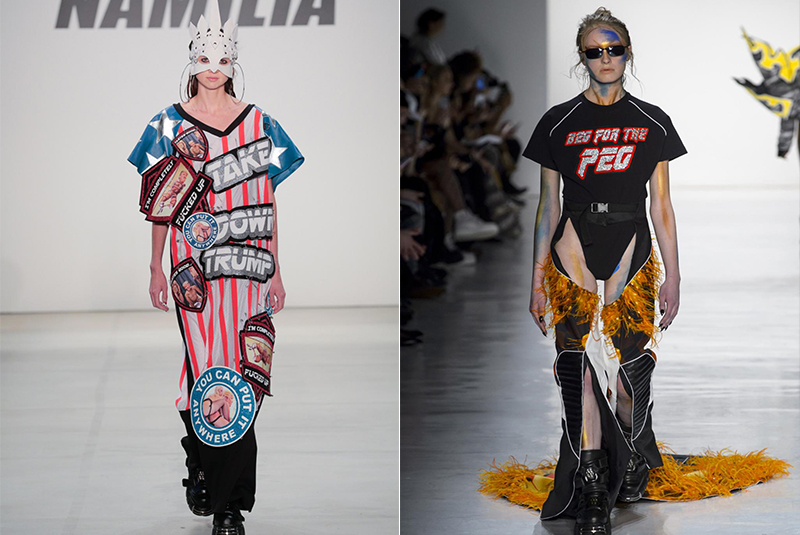 Left, photo from Namilia's "You're just a toy" collection runway show. Right, photo from Namilia's "Join the Resistance" show. Images courtesy of Namilia.

But where does this conversation place Namilia? Unlike H&M and Dior, Namilia is not a multi-billion dollar fashion company. In fact, they're based in Berlin because "living here is so much cheaper and you can afford a studio." They devote much of the year to working on the sales of their ready-to-wear lines (which are produced in Poland) because "after the shows we're usually broke," says Pfohl.

When faced with the question of whether a capitalist brand can ever really be feminist, Namilia's founders say their authenticity sets them apart from commodity feminism. "[Those brands] don't want to change anything," says Pfohl. "They just want to make money, and they don't really care about the meaning."

"For me, I see our stuff more as art, and we use our things as a platform to spread our message and make people think about certain issues," adds Li.

While Namilia excels at in-your-face fashion statements—that do force audiences to confront progressive ideas—it's possible to argue that the brand is also guilty of profiting off feminist branding without always practicing what they preach. Its website reads: "Namilia is driven by an unwavering revolutionary youth spirit committed and devoted to the true feminine in all her forms." And yet, all of the models at their last show were as tall and thin as the stereotypical image of a runway model from the 90s. In addition, unlike brands such as Eckhaus Latta and Gauntlett Cheng, who have a similar target audience, Namilia has yet to embrace gender diversity in their models.

"Namilia is more kind of the fantasy goddess—like someone who doesn't really exist."

Namilia's founders say their lack of body diversity is in part due to practicality. They create their show looks in Berlin and then do casting once they've arrived in New York for fashion week, which makes it difficult to hand pick models outside the industry norm, they say. Their other reason has to do with the fantasy world they wanted to create in their last show, "The Indiscreet Jewels." Their models were dressed in rich pink and gold silks—fashioned in the shape of vulvas—as they walked to Disney classics. "Namilia is more kind of the fantasy goddess—like someone who doesn't really exist," says Li.

"That's why you can tell a fantasy story with [the tall, thin models]," says Pfohl, "because they're not real, and you don't really think, 'She looks almost like me.'"

"Doesn't that imply that the fantasy is skinny and largely white?" I ask.

"That's true," Li concedes. "It's definitely something to think about and we'll have to work on a better answer, because, to be perfectly honest, I've never really asked myself Oh do we need a diverse cast in body shape?"

"I also never really did," adds Pfohl.

Perhaps Namilia isn't the perfect model of ethical feminist fashion, if such a thing can exist. Yet, in a world where feminism (if a diluted version that involves far more T-shirts than active resistance) has permeated the mainstream so much so that feminist messaging has become a bored cliché, Namilia is by far the most interesting label trying their hand at branded empowerment.

Broadly
Tags: Fashion,