Out Olympian Raven Saunders' mother died shortly after seeing her win a medal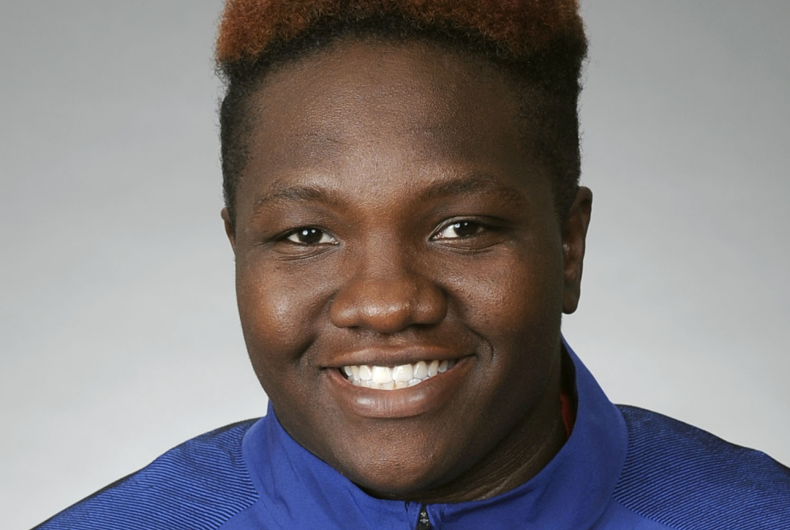 Out Olympian Raven Saunders has shared on social media that her mother passed awayshortly after seeing her daughter win a silver medal for shot put. Clarissa Saunders' death was unexpected.
She was in Orlando with another of her daughters, Tanzania, as part of a group hosted by NBC at a theme park so they could watch family members compete; no spectators are allowed at the Tokyo Games as a coronavirus precaution.
"My mama was a great woman and will forever live through me," Saunders posted on Twitter. "My number one guardian angel. I will always and forever love you."
Saunders, who raised her arms in an X gesture during her medal ceremony to symbolize "the intersection of where all people who are oppressed meet," has spoken out about their difficulties with depression and mental health issues.
"Everything that I've been through mental health-wise, injuries, financial, being able to really invest everything I've had mentally and physically and be able to walk away with a medal, and be able to go out here and really inspire so many people of the LGBTQ community, so many people who have been dealing with mental health issues, so many people of the African American community, so many people who are Black all around the world," Saunders said on Sunday. "I really just hope I can continue to inspire and motivate."
The International Olympic Committee has said they will investigate whether or not the gesture broke the rules about protests on the winning stand. If so, they will yank the medal from her.
"Just know we surrounded Clarissa and Tanzania with lots of love and laughs," three-time Olympic gold medal winner Tianna Bartoletta, who is also in Orlando, tweeted back to Saunders. "Take your time Raven, we're here for you."
"My heart and my soul cries out [right now], but I [know] my mom is in a great space," Saunders posted on Instagram. "I'll miss your love, your smile, your hugs, your advice, your jokiness, your random twerks [laughing emoji]. Our last conversation was one of the best ever. Mama I know you love me with every fiber in your body. I'll make sure Tanzy is ok and taken care of. You're [sic] grandkids when born will know how wonderful and beautiful of a woman you were."

lgbtqnation
Tags: Olympics