Six queer films we can't wait to see in 2021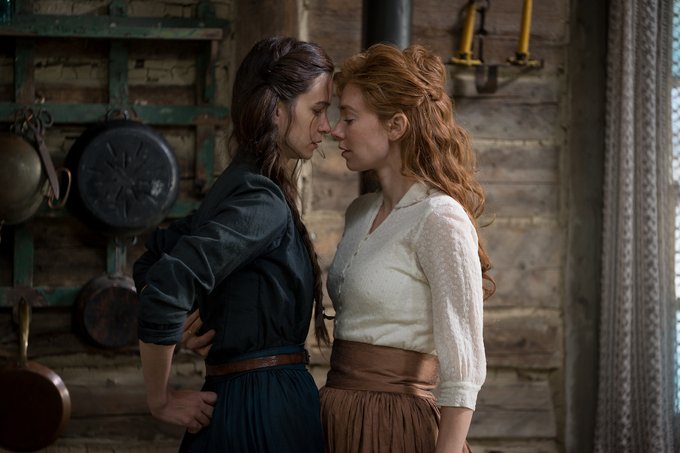 If there's one part of normality we can't wait to get back this year, it's the thrill of heading to a cinema to see the latest queer film. Gone are the days of popcorn boxes bigger than your head and a mask-less two hours of escapism. Now our movie nights contain the other kind of face mask, that you take off after 10 minutes of terrifying your housemates, and eating the entirety of your kitchen cupboards.
Here are the six queer films we think are gonna be worth seeing this year. Even if it's just a trip to the living room cinema, we'll be there!
The World To Come




"In this powerful 19th century romance set in the American Northeast, Abigail (Katherine Waterston), a farmer's wife, and her new neighbour Tallie (Vanessa Kirby) find themselves irrevocably drawn to each other. A grieving Abigail tends to her withdrawn husband Dyer (Casey Affleck) as free-spirit Tallie bristles at the jealous control of her husband Finney (Christopher Abbott), when together their intimacy begins to fill a void in each other's lives they never knew existed."



"Two retired women, Nina and Madeleine, have been secretly in love for decades. Everybody, including Madeleine's family, thinks they are simply neighbours, sharing the top floor of their building. They come and go between their two apartments, enjoying the affection and pleasures of daily life together, until an unforeseen event turns their relationship upside down and leads Madeleine's daughter to gradually unravel the truth about them."


I Care A Lot
The latest Netflix trailer to catch our attention is for I Care A Lot, a comedy thriller starring Rosamund Pike as a scamming, vape-toting legal guardian who makes a profit tout of tricking the elderly out of their homes and assets. When her most recent plan goes wrong, she discovers she's dealing with a woman much more powerful than she thought.
If that doesn't sound great enough, Rosamund Pike's character Marla Grayson is a lesbian and her girlfriend/conspirator is played by Eiza González. We're sold already.


Everybody's Talking About Jamie


Based on the award-winning London musical, Jamie New is a 16 year-old who doesn't fit in with everyone else. Instead of wanting to pursue a "real" career, he dreams of becoming a Drag Queen. Supported by his mum and friends, Jamie overcomes prejudice, beats the bullies and emerges out of the darkness and into the spotlight as a star.
Beauty
Based on a screenplay by Lena Waithe, Beauty is a queer romance about an up-and-coming pop star and the woman who loves her. She struggles to maintain her voice and identity after she's offered a lucrative recording contract, setting off a fierce battle between her family, the label, and her closest friend to determine who will guide her as she makes the journey to become a star.
Sadly, there's no poster or trailer for this one just yet. Fingers crossed it's coming soon!
The United States Vs. Billie Holiday


This brand new biopic follows the iconic bisexual jazz singer Billie Holiday as she finds success, deals with addiction and her involvement with the U.S. Civil Rights Movement.
There have been various other films made about Billie Holliday, but this time there's a queer director telling the story so this one does touch on Billie's sexuality. In the trailer we even see her spending time with Tallulah Bankhead, one of Billie's real life lovers, played by none other than Natasha Lyonne.

Divamag