Supermodel Aweng Ade-Chuol shares tender kiss with wife in defiance of homophobes who drove her to suicide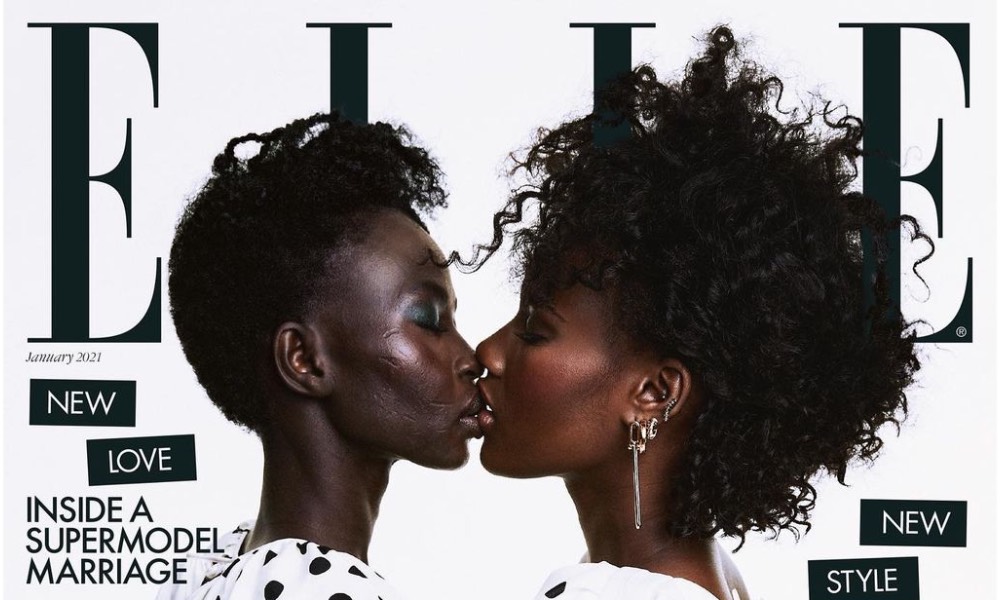 Supermodel Aweng Ade-Chuol kisses her wife Alexus on the cover of Ellemagazine in a powerful rebuke to the homophobes she said devastated her mental health.
Ade-Chuol said that she knew Alexus (who she calls Lexy) was the one the moment a change encounter brought them together.


"I'm the kind of person who has met many beautiful people, and it's like, OK, cool, bye," she told Elle UK.
"But after I saw her, I annoyed the sugar out of her until she gave me her personal number."
The couple married in New York, where they lived until a recent move to London, in December 2019.
Ade-Chuol's family, who fled the Sudanese civil war and were granted asylum to Sydney in 2006 (the supermodel was born in a Kenyan refugee camp) are eager to meet their new daughter-in-law.
Aweng and Alexus married in December 2019. (Elle UK)


However the response from her native South Sudan has not been as kind. Ade-Chuol has faced severe homophobic abuse that has had a profound impact on her mental health, leading to a suicide attempt in April of this year.
"We got married and the whole world, literally the whole of my community, were wishing that I passed, in a way," the 21-year-old said.
"A few months later, I attempt [suicide]. It was really absurd, because subconsciously I felt I was maybe drained by the fact we'd got married."
Ade-Chuol said that almost a year on, newspapers and communities are still discussing her marriage, asking: "How dare she marry a woman?"
"For me, it was like, with the political climate that's going on, you really think that my marriage is the most significant thing in your life right now?" she added.
"It was saddening, because it was the happiest day of my life, and they couldn't let me enjoy it."
She shared her struggles with Instagram two months later, telling fans that she had found her way to "a much better place".
"Therapy and self-acceptance" were here suggestions for those having similar experiences.
In September Ade-Chuol said the words "I am a lesbian" for the first time on social media, and was blown away by the response from young, queer Sudanese girls.

pinknews
Tags: Lesbian Issues